Your address
Levels 56 & 57, MLC Centre
19-29 Martin Place
50% off your first two months of Coworking at this location!
At MLC Centre Servcorp offers: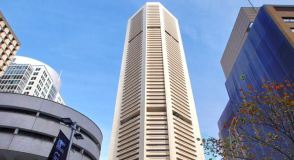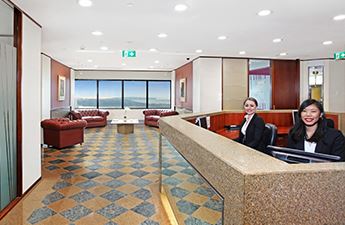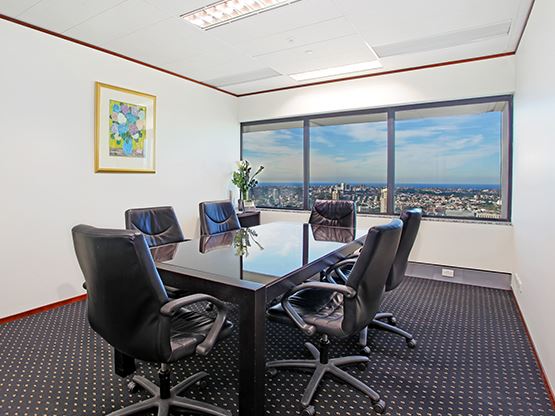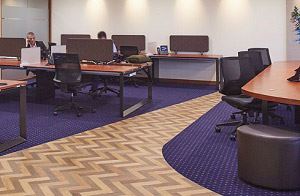 ---
About Levels 56 & 57, MLC Centre
The MLC Centre is a prime grade building in Martin Place, the heart of Sydney's CBD.
Designed by renowned architect Harry Seidler, it is one of Sydney's most iconic commercial buildings.  At 67 storeys and 228 metres high, the MLC Tower was the tallest building in Australia from 1978 until 1992.
Constructed of reinforced concrete, MLC Tower is a modernist white octagonal column. It was awarded the coveted John Sulman medal by the Royal Australian Institute of Architects in 1983. 
The building podium features a shopping centre with several exclusive fashion labels, including Longchamp, Jimmy Choo, and Omega. The complex also contains the 1,186 seat Theatre Royal, a carpark, a newly renovated gourmet food hall, and numerous cafes. 
Located directly above Martin Place station, this building offers excellent transport connections. In-house amenities include doctors, dentists, medical centres and a child care centre.
The building boasts spectacular views across stunning Sydney harbour and city skyline. Many of Sydney's landmark attractions – including the Harbour Bridge, Sydney Opera House and Hyde Park – are just a stroll away.
Building occupants include the $1 billion global food business Sunrice, the Sydney Consulate of the United States of America, the NSW Department of Primary Industries, and an impressive list of law firms and financial institutions.
25 mins by taxi or 35 minutes by train from Kingsford Smith Airport.
Directly above Martin Place station at the Castlereagh St exit. Wynyard, Town Hall, St. James and Circular Quay stations are within easy walking distance.
Circular Quay Ferry Terminal is a 10 minute walk.
Bus stops on Castlereagh and George Street are less than 5 minutes' walk.
The Servcorp Difference
We know you will get value from our service, so your commitment can be as little as one month
Your phone number will be set up instantly, and you can manage how it is answered online or with our app
We only choose the best addresses, and we fit them out to an immaculate global standard. When you meet clients at our offices they will be impressed
We never use call centres, and all our team are well trained and presented. You can book their time for as little as ten minutes
You'll get access to market leading IT services
We are the only premium global provider, and your membership includes access to our network of 150 offices worldwide
How we help your business
We've done the hard work for you, so for your low monthly fee your business can take advantage of our investment in:
Finding the best building in each city 
Committing to the minimum lease agreement 
Fitting out the floor to 5-star quality, which costs on average US$1.5 million
Hiring and training the best team to support your business
Building a US$50 million IT infrastructure that allows you to take advantage of the global network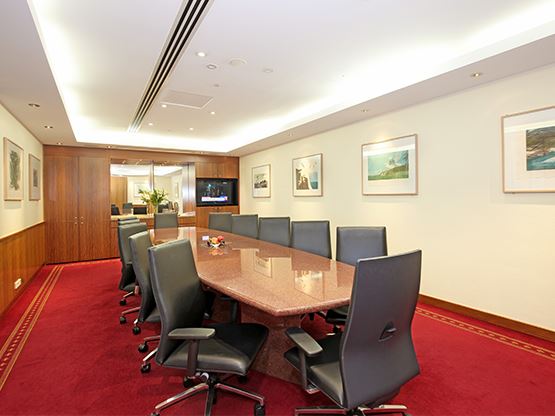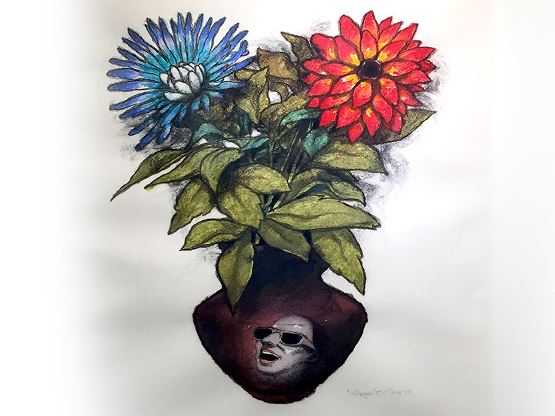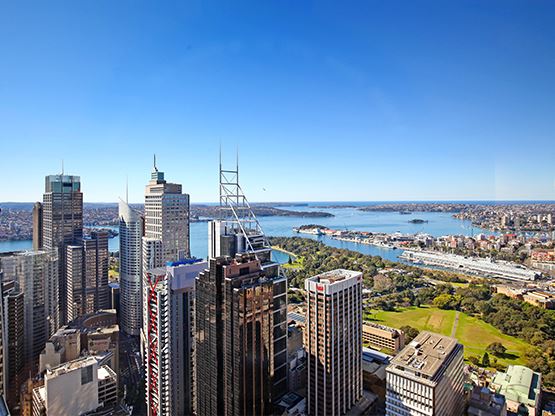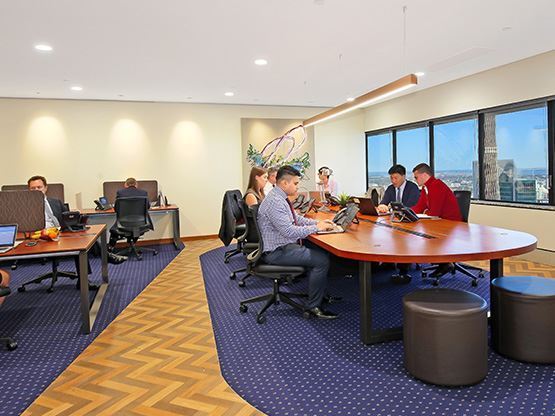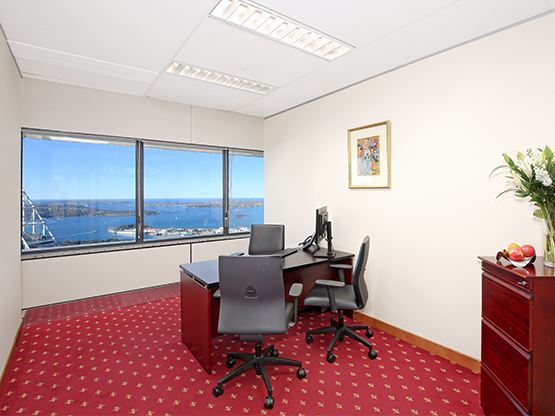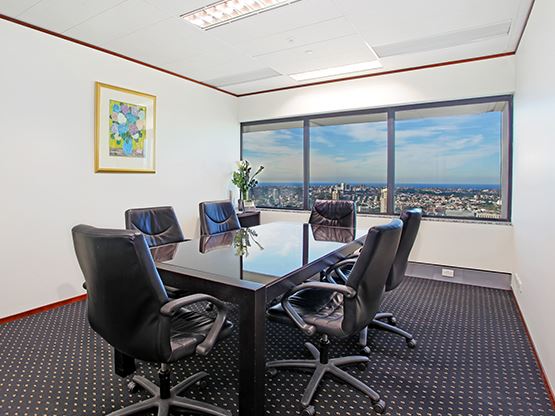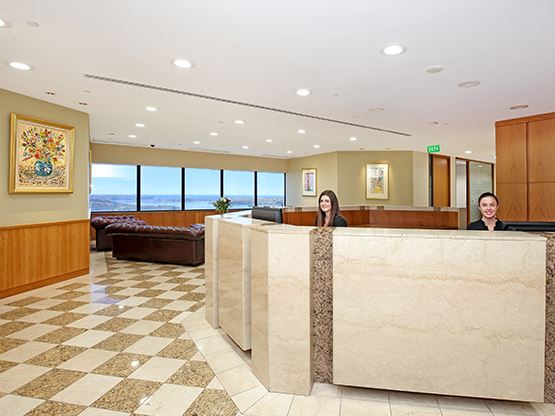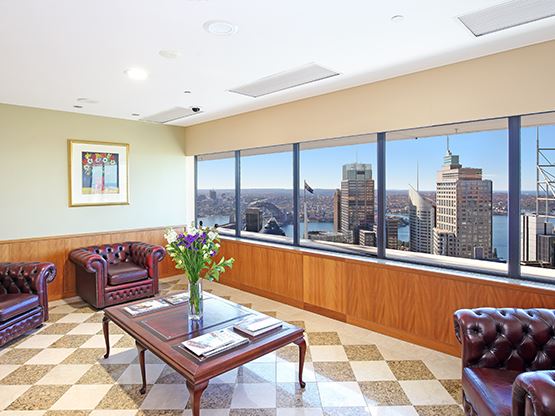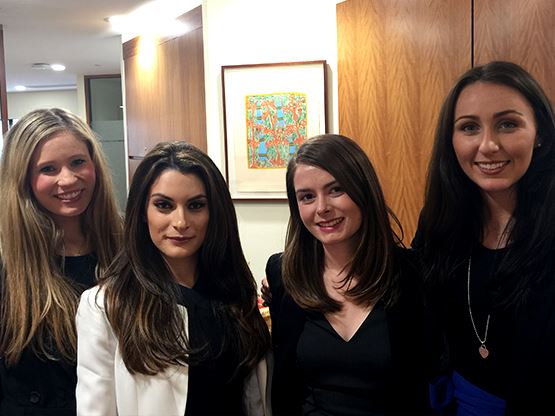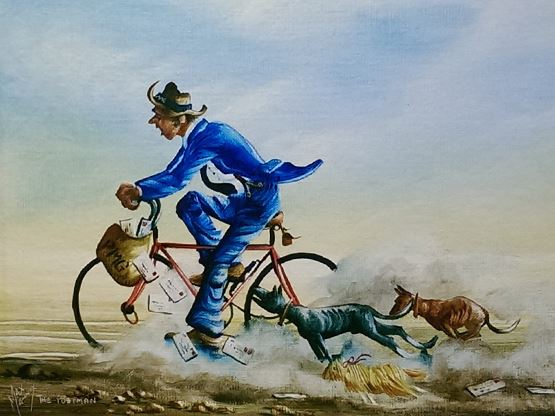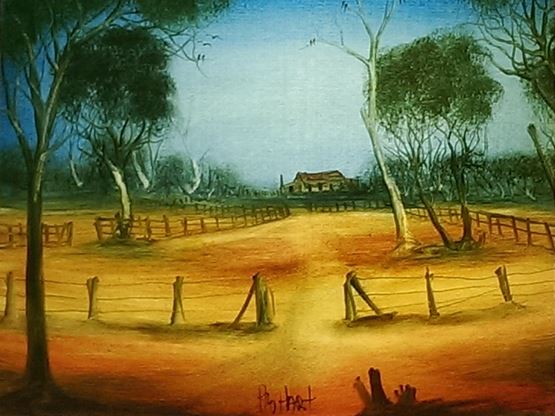 Our Office and Facilities
Servcorp offices are located on levels 56 and 57 of the MLC Centre.
Level 56 features floral-themed art by renowned artists Ian Mackley and Frederick Harold "Fred" Cress AM. A number of pastels by Cress were specifically commissioned for the opening of this floor in 2007, featuring beautiful flowers in vases depicting eccentric faces. Cress (1938– 2009) was a British painter who migrated to Australia and won the Archibald Prize in 1988.
Level 57 features an Australian theme with its art displays; varying from Kevin Charles Pro Hart, capturing the true spirit of the outback as well as Max Mannix who depicts life in country towns to Kevin Waina whose works are painted in a traditional indigenous theme inspired by his home Kalumburu.
 Facilities include:
Shower, change rooms, and laundry services
5 x day suites (1-3 people)
2 x boardrooms (12 people)
10 x virtual office coworking lounge stations
3 x virtual office day suites (1-3 people)
2 x meetings room with view (4-6 people)
3 x meeting rooms (4 people)
Coworking for Grown-Ups, with 50 workstations
Martin Place is a pedestrian plaza located in the heart of the centre of the Sydney CBD. It is home to the Reserve Bank of Australia, and the headquarters of many of Australia's major banks - including Westpac, Commonwealth, NAB, ANZ, and Macquarie.
The Sydney General Post Office (GPO) and the Seven Network's news centre are also located in Martin Place.
Martin Place enjoys excellent transport connections, being located above a train station and close to ferries and buses.
Within 5 minutes walking distance:
Pitt Street Mall, Australia's premiere retail shopping precinct
Westfield Sydney and the Queen Victoria Building
Sydney Harbour and Opera House
Hyde Park, the Domain, and the Royal Botanic Gardens
Major Banks – Westpac, Commonwealth, NAB, ANZ, Macquarie
Sydney General Post Office (GPO)
Reserve Bank of Australia
Parliament of NSW
Supreme Court of NSW
Sydney Hospital
Gyms
Pharmacies
Popular bars, restaurants, cafes, and nightclubs
Public transport – trains, buses, ferries
Looking for another office location?