Servcorp Japan is committed to making the world breast-cancer free through our products, our people, and our philanthropy. We are proud partners of Run for the Cure, and together, share the mission to eradicate breast cancer in Japan as a life-threatening disease through education, timely screening, and treatment.
Run for the Cure Partnership
As a Partner, Servcorp Japan is committed to supporting activities of the Run for the Cure Foundation. We hold charity events at each of our 27 floors across Japan while also sponsoring their flagship fundraising events. In 2022, Servcorp Japan managed to raise 2,951,607 yen for the Foundation. Over the years to come, we will continue to support activities such as raising awareness for early detection, importance of screenings, and other programs aimed at improving quality of life of breast cancer patients and survivors.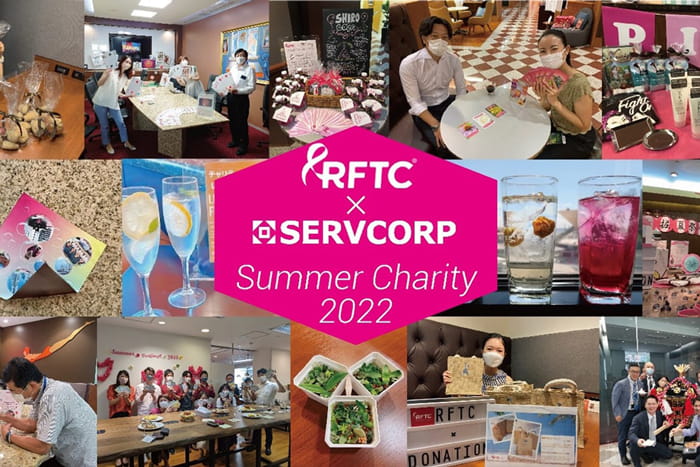 All Servcorp Japan locations came up with ideas to raise funds, both on our floors with clients and online.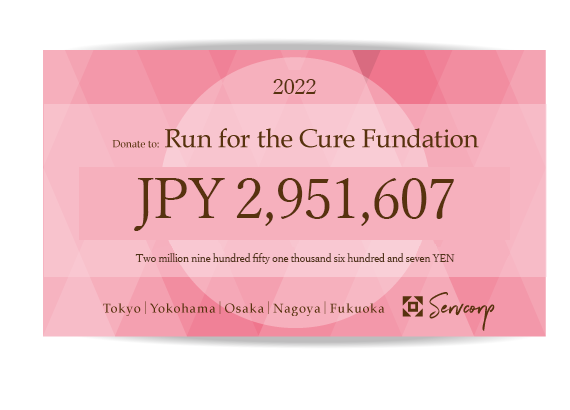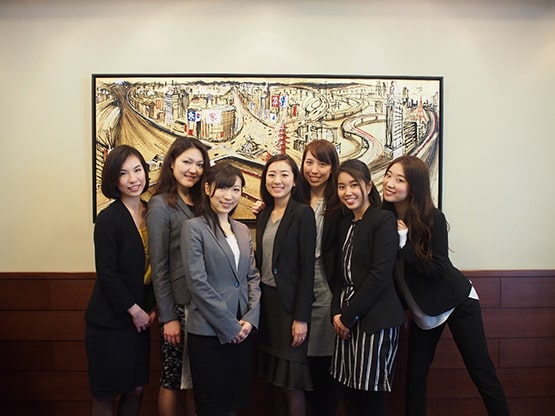 80% of Servcorp Japan's Manager Team are women
Supporting Female Empowerment
Japan has one of the worst levels of gender equality in the developed world in relation to women's pay, political empowerment and level of economic participation and opportunity. Servcorp Japan prides itself on its policy of actively promoting women to managerial positions. In 2022, 80% of Servcorp Japan's Management Team are women, which bucks the trend of the vast majority of companies in this country. In addition, at Servcorp Japan we understand the importance maintaining a healthy work-life balance and actively encourage a standard work hour week. This makes us extremely compatible and attractive to employees heavily reliant on child care and those that need to juggle their careers with family life.
Servcorp Efforts in Australia
Servcorp holds charity functions and balls, runs raffles and undertakes local donation drives throughout the year across all locations. Every dollar that is raised by our teams on the ground is matched dollar for dollar by Servcorp.
As of the end of Financial Year 2015, Servcorp had raised and donated in excess of $550,000 to help with many organisations around the world. In Australia, Youngcare continues to be the main focus of our fundraising, and non-executive Director, Taine Moufarrige, continues to be heavily involved with this organisation.
Kayak for Kids
Every March since 2010 the 'Servcorpian' team take to the waters of Sydney Harbour and paddle their hearts out for Lifestart in the annual Kayak for Kids Competition. Servcorp locations around Australia support the cause with local fundraising efforts. In 2015 Servcorp raised over $30,000 for Lifestart and the goal is to increase the amount each year!
Against the inspiring backdrop of Sydney Harbour, from Blues Point to Balmoral Beach and back to Clifton Gardens the Servcorp crew paddle 18 kilometers in support of children with disabilities and developmental delays.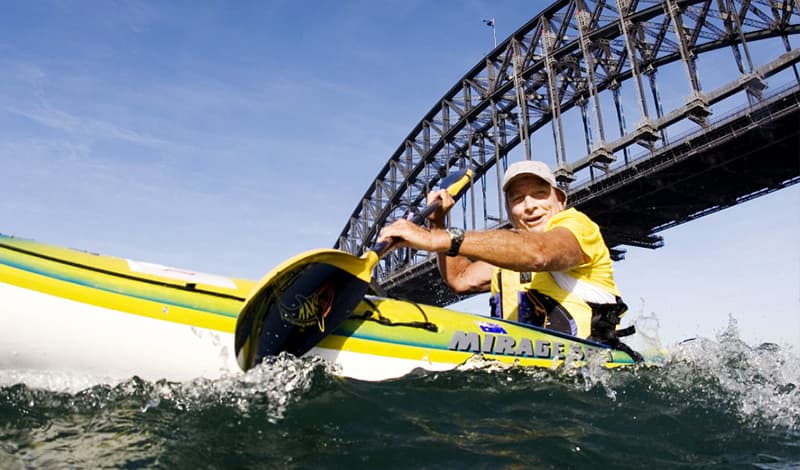 Others
Other Organisations strongly supported in the 2015 financial year included:
Cancer Council
Exodus Foundation
Fight Cancer Foundation
Humpty Dumpty Foundation
Ingham Health Research Institute
Lifestart – Kayak for Kids
Look Good Feel Better
Mater Lives Committee (Mater Hospital)
The Mater Foundation
MS Research Australia
Murdoch Children's Research Institute
Rotary Club of Sydney
The Salvation Army
St Vincent's Private Hospital
Sydney Children's Hospital Foundation
World Vision
For more information on Servcorp Japan's CSR activities, please contact us at pr@servcorp.co.jp