Level 1, Yusen Building 2-3-2 Marunouchi, Chiyoda-ku
Tokyo
,
100-0005
Level 1, Yusen Building
2-3-2 Marunouchi, Chiyoda-ku

+81 3 5533 8700
The ideal setting for all your business appointments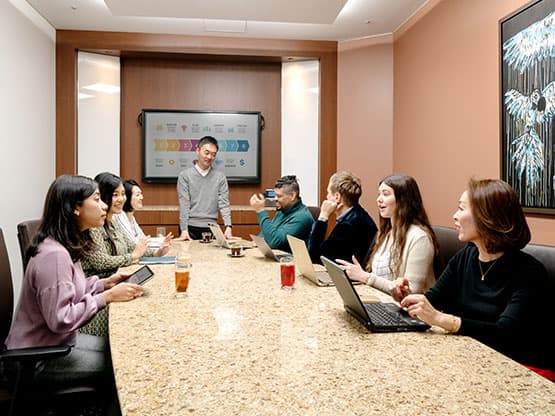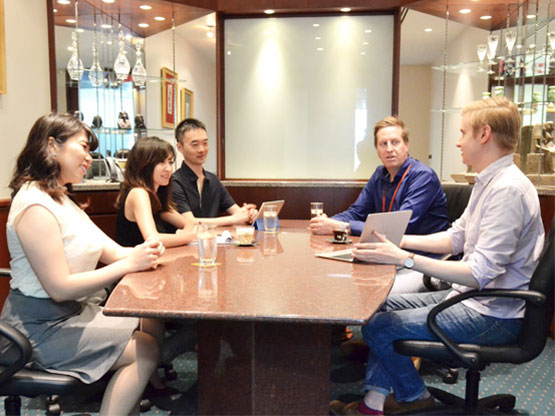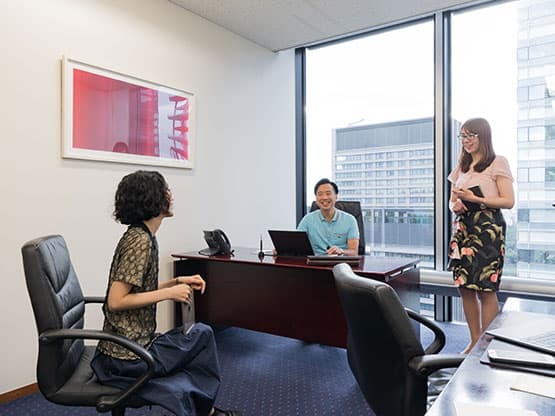 ---
About Marunouchi Yusen Building
With the beautiful Imperial Palace Gardens right across the street, Marunouchi Yusen Building is situated in Japan's most highly esteemed location, with Tokyo station only 3 minutes away by walking through Gyoko-dori, also known as "the avenue that leads to the emperor". Still nowadays, all newly appointed Ambassadors to Japan are driven on this avenue in a special horse-drawn carriage from Tokyo Station to the Palace to visit the Emperor.
Marunouchi Yusen Building is one of the first major commercial buildings built in the area and has maintained a great reputation throughout its life. The high ceilings and large windows allow plenty of light to enter the offices and offer a spacious atmosphere. The building beholds spectacular views of the historical Imperial Palace on one side, whilst having the modern-day Tokyo skyline on the other - you can have the best of both worlds!
How to get to Yusen Building
How to get to Yusen Building
Level 1, Yusen Building 2-3-2 Marunouchi, Chiyoda-ku
From Narita International Airport: 60 min by Narita Express to Tokyo Station. 90 min by Airport Limousine bus to Marunouchi hotel. From Haneda Airport (Tokyo International Airport): 30 min by Keikyu Line to Tokyo station. 40 min by Airport Limousine bus to Tokyo station.
3 minute walk from Marunouchi Central Gate of Tokyo station. (JR lines, Tokyo Metro line, Narita Express, Bullet trains).
1 minute walk from Exit 7 of Nijuubashimae station (Tokyo Metro Chiyoda line).
1 minute walk from Exit 7 of Otemachi Station (Tokyo Metro).
5 minute walk from closest Bus staiton, Tokyo Station Marunouchi exit. Bus TOH05/TOH04/HIGASHI98
Marunouchi is the centre of Japan's financial industry, housing headquarters of the three largest banks in Japan along with head offices of major companies. Since the recent renovation of Tokyo station, Marunouchi's popularity has been on a continuous rise, and it has no doubt becoming the most prestigious area for a company to be based. It is where the most high-end restaurants, shops and department stores are located, as well as satisfying nightlife for working adults. It is also walking distance to Ginza, Tokyo's most prestigious shopping district, as well as the center of the more exclusive clubs and bars. Tokyo station is also a central hub for transportations, with the Narita express, Yamanote, and Shinkansen lines. Marunouchi Trust Tower is situated in the heart of this prestigious business district. Walking out of the elevator on the 20th floor, Servcorp's granite reception extends to a breathtaking view of the most recognizable landmarks in the area including Tokyo station and the Imperial Palace.
Within 5 minutes walking distance:
Daimaru Department Store
Shangri-La Hotel
Extensive Dining Options
Major Banks
Post Office
Starbucks
Convenience Store
Book Store
Drug Store
Mobile Phone Shops
Souvenir Shops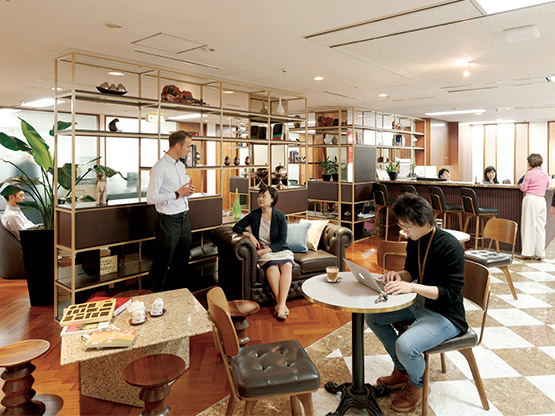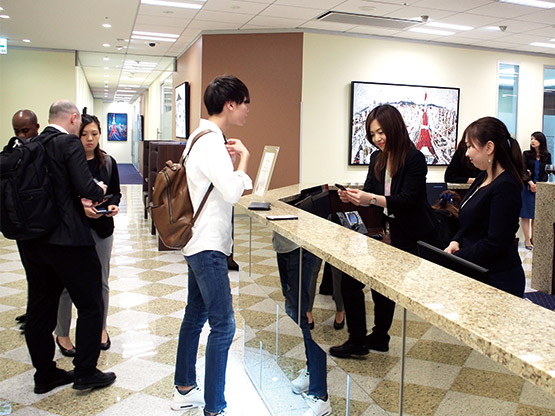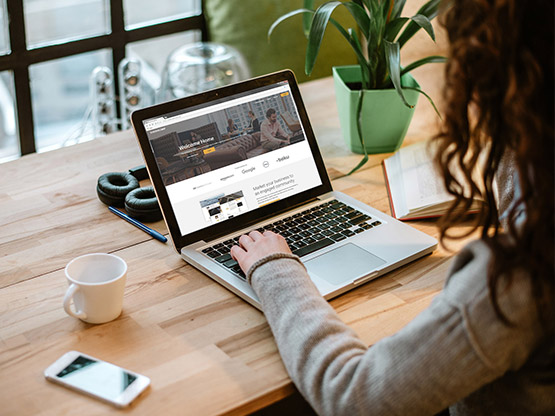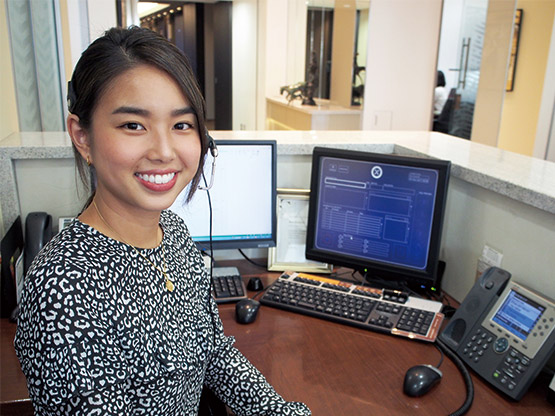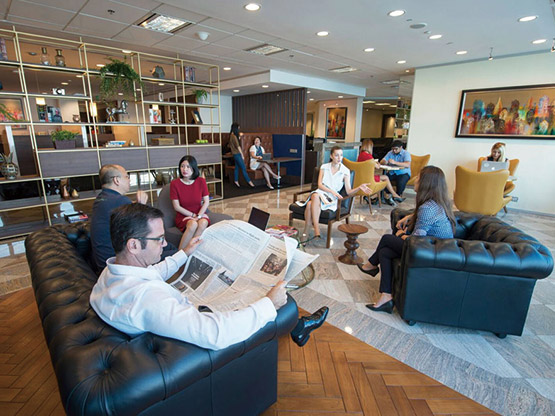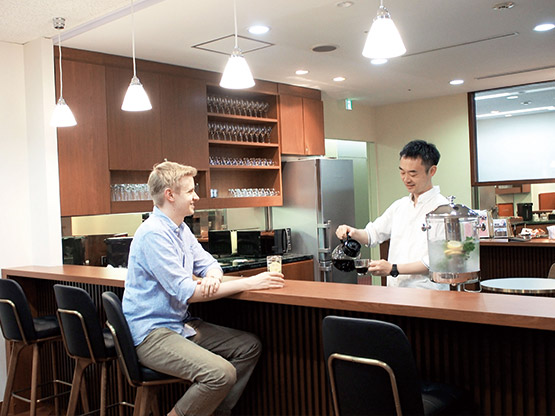 Our clients love:
Prestigious location; situated in the very heart of Marunouchi, the Yusen Building occupies some of the most prestigious real estate in the world: the Marunouchi side of the Imperial Palace's outer moat. On the corner of Hibiya-dori and Gyoko-dori avenue that leads from the Imperial Palace to Tokyo Station.
Tokyo Station is only a 3 minute walk away with multiple train and subway stations, including the Shinkansen platforms and a direct connection to Narita International Airport.
One of the most reputable buildings in the Marunouchi area; the headquarters of Nippon Yusen, one of the biggest shipping companies of Japan.
Within walking distance to other major business areas such as Otemachi, Hibiya Nihonbashi and Yurakucho
A well-rounded area with the Naka-dori brand shopping and luxurious hotels such as the Tokyo Station Hotel and The Palace hotel or the major worldwide Five Star hotels such as the Shangri-La and The Peninsula hotels, all within walking distance.
At this location Servcorp Offers: