The ideal setting for all your business appointments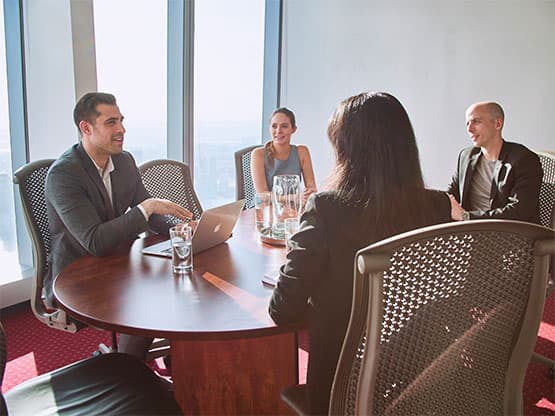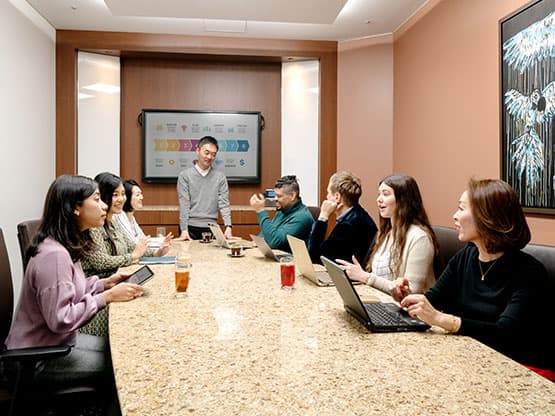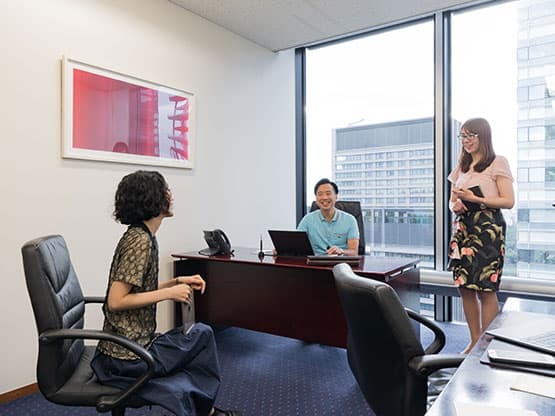 ---
Overflowing with class, the Roppongi area is famous for its wealth of foreign organizations and businesses. Tri-Seven Roppongi is an office and retail development designed to complement and enhance the surrounding environment. Tri-Seven holds its name from the address of the building at 7-7-7 Roppongi and is conveniently located in the heart of Roppongi, right opposite the impressive Tokyo Midtown complex.
Office floors offer elegance and efficiency, while retail space is occupied by Barneys New York flagship store offering a great shopping experience. Largely opened up to the outside, this impressive building has a glass facade, multi-level terraces and is surrounded by gardens.
Tri-seven is on a hill thus even from the 8th floor it has expansive views overlooking Roppongi, Shinjuku and other parts of Tokyo. With a 5-star fit-out, artwork, spectacular boardroom, spacious offices, a coworking lounge and a large pantry, this location is one of the nicest serviced offices in Japan. In addition, a seismic isolation system reduces shaking and guarantees safety in the event of an earthquake, a relief to both tenants and their clients.
The old shrine that was conserved in the outside Plaza reveres "Fukurokuju" one of Japan's 7 lucky Gods, giving the blessings of good luck, prosperity and long life. It is therefore considered a great place to work and providing good luck for business.
How to get to Tri-Seven Roppongi
Roppongi Station:3-min walk from Exit 4B
Tokyo Metro Hibiya line
Roppongi Station:3-min walk from Exit 8
Toei Oedo line
Nogizaka Station:4-min walk from Exit 3
Tokyo Metro Chiyoda line
Haneda International Airport:
35 minutes by the Tokyo Monorail to Roppongi Station
Narita Airport (Tokyo International Airport):
65 minutes by Narita Express via Tokyo station to Roppongi Station
94 minutes by Keisei Line to Roppongi station. 1 hour 45 minutes by Airport Limousine Bus to the Ritz Carlton Hotel
Toei Bus:4 minute walk from Roppongieki-Mae Bus Stop
Roppongi is famous for it's wealth of foreign businesses and organizations and due to the large number of foreign embassies in the area, it is also popular amongst foreigners and foreign-nationals in Japan. There are also large buildings complexes like Tokyo Midtown and Roppongi Hills where top businesses from inside and outside Japan have offices. While it is one of the leading business districts in Asia, it is also recognized as a large art area because of it's inclusion of the National Museum of Art, the Suntory Museum of Art, and the Mori Art Museum.
Within 2 minutes walking distance:
Barney's New York flagship department store (located on the ground floor)
The Ritz-Carlton Hotel, Tokyo Midtown
Oakwood Premier Serviced Apartments
Tokyo Midtown - one of Japan's largest mixed use developments
Extensive dining options from both 5-star restaurants to ramen shops
Billboard Live Tokyo
Fuji Film Square
All Major Banks
Post office
The National Art Center
Suntory Museum of Art
Convenience Stores
Pharmacies
Clinics
Tsutaya Books / Music store
Midtown Garden park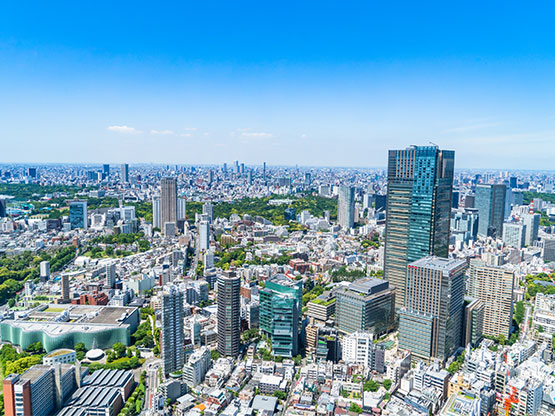 Roppongi, Tokyo
Our clients love:
Prominent corner location, situated between Roppongi subway station and Nogizaka subway station.
Prestige of the location, which is located right opposite Tokyo Midtown. The area itself is home to many foreign embassies, investment banks, and other multinational firms, such as Apple, Google, Cisco Systems, and Goldman Sachs. 
The shared plaza that serves as a tranquil urban retreat surrounded by trees. 
The state-of-the-art building, with a beautiful glass facade and a seismic isolation system, guaranteeing a safe working environment.
The convenience of the area, Barneys New York flagship store on the ground floor and 16 Michelin-starred restaurants within a 10 minute walk. The Ritz Carlton hotel and Oakwood Premier residences are just across the street. 
The Midtown Garden park leads to a beautiful Japanese garden and offers an oasis of tranquillity for a lunchtime walk or an outside dinner venue.
At this location Servcorp Offers: