At Level 15, Fukuoka Tenjin Fukoku Seimei Building Servcorp offers: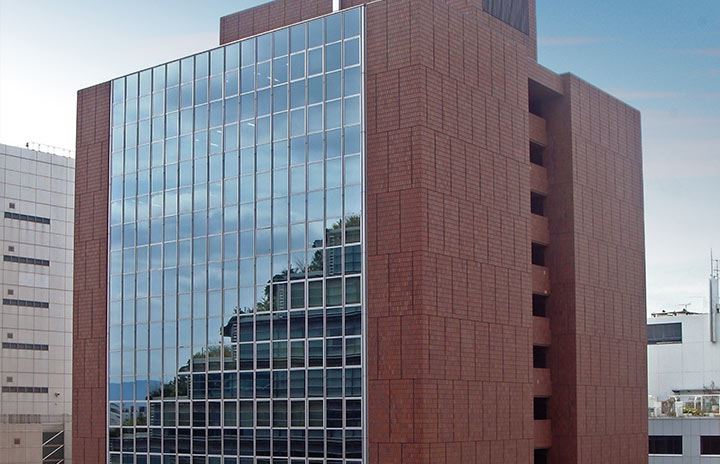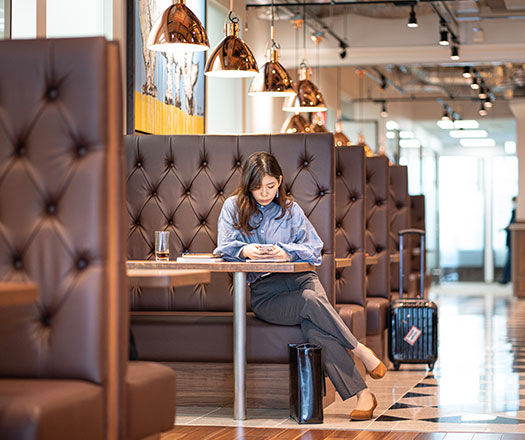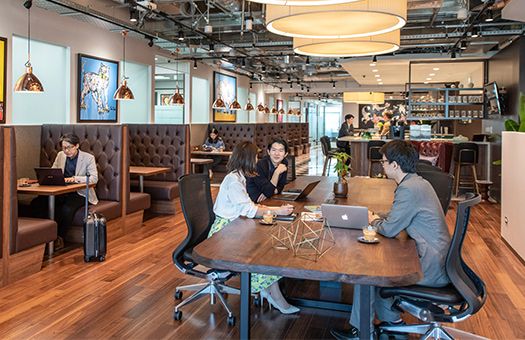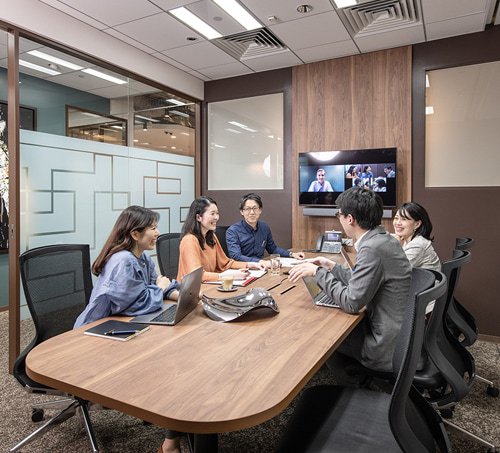 About Fukuoka Tenjin Fukoku Seimei Building
The Fukuoka Tenjin Fukoku Seimei Building is well known and ideally located in the heart of Fukuoka's central business district "Tenjin". Surrounded by rivers, Tenjin offers a delightful area to work and travel to. Excellent transportation with an indoor connection from the basement of the building to Tenjin Station, one cannot wish for a better commute. Fukuoka city offers the best access to an airport with just a 10 minute train ride from Tenjin to domestic and international flights.
As the central business district in the entire Kyushu region, Tenjin provides countless opportunities for business and networking. With the Fukuoka City Office next to the building, all locals are familiar with it. The Servcorp serviced office is located on the highest floor - experience the convenient amenities of the building and at the same time enjoy the impressive panoramic views over Fukuoka while you work! Fukuoka Tenjin Fukoku Seimei Building, our highly popular office building in the area, has doubled its office size in June 2013 and is now able to support more businesses.
How to get to Fukuoka Tenjin Fukoku Seimei Buil...
Tenjin Station: Direct connection from Exit 14
Fukuoka City Subway Airport Line
Tenjin-Minami Station:6 min walk from Exit 5
Fukuoka City Subway Nanakuma Line
Nishitetsu Fukuoka Station:8 min walk from North 1 Exit
Nishitetsu Tenjin Omuta Line
Fukuoka Airport:
11 min by Fukuoka City Subway Airport Line to Tenjin Station
City route buses, Express buses:
10 min walk from NISHI-TETSU TENJIN BUS CENTER
"Tenjin is located in the heart of Fukuoka city where department stores, fashion buildings, major banks, and office buildings are located next to one another on both sides of Watanabe-dori Main Street. In addition, Daimyo, Imaizumi and Kego area, are within walking distance from Tenjin, which is filled with shops, upscale-cafes and restaurants. The area is perfect for a stroll while browsing one's favorite shops.
The area also provides convenient access to surrounding destinations, with Tenjin subway station, Nishitetsu Fukuoka train station and expressway bus terminal, as well as the 150yen loop bus, which connects with JR Hakata station, which has bullet-train service. Fukuoka Airport, directly connected by the airport-line, is only about 15 minutes away which means you'll be able to travel anywhere domestically or internationally."
Within 5 minutes walking distance:
Bank of Japan Fukuoka Branch
Fukuoka Bank Central Branch
Fukuoka Stock Exchange
Fukuoka City Hall
Post Office Fukuoka Central Branch
Tenjin Chikagai - Underground Shopping Mall
Mitsukoshi Department Store
Daimaru Department Store
Electronics Retail Store
Nishitetsu Inn Hotel
Tenjin Central Park
Fukuoka Symphony Hall
Event Hall
Conference Centre
Restaurants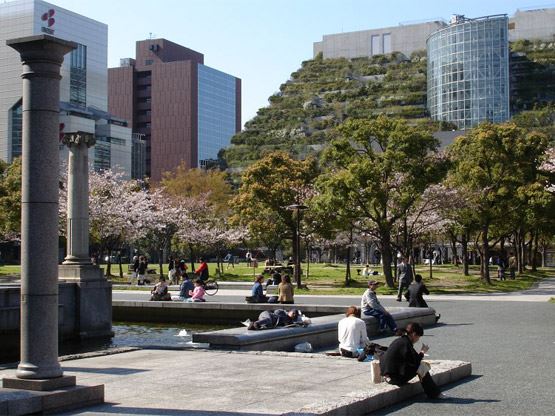 ACROS FUKUOKA
Our clients love:
Convenient access to the building. The Fukuoka Tenjin Fukoku Seimei Building is directly connected to the subway station, providing clients with an efficient, weather free access at all times.
Modern look and feel of the office, marrying  wood colors with dark blue and mirrors
Beautiful panoramic view of the city. With the Hakata Bay in the scenery and cherry blossoms blooming in the spring, enjoy working in the best office environment.
Proximity to Fukuoka Airport, a 10 minutes train ride away. Fukuoka is the "Gateway to Asia" with Seoul and Shanghai within 1.5 hours flying time and Hong kong within 2.5 hours.
Diversity of businesses in the area. From fashion agencies to financial institutions, the area is surrounded with different types of industries, making it easy for any client to establish his/her office at this location.