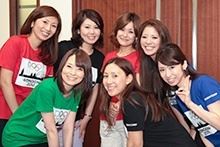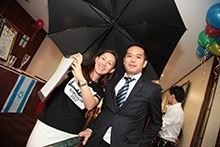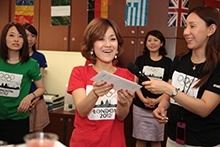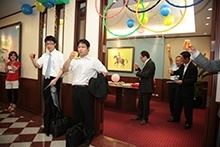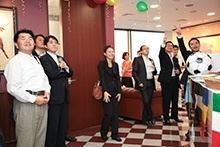 Servcorp Japan is a big supporter of the Shine On! Beads of Courage program by the Tyler Foundation – a non-profit organization dedicated to help children with cancer and the families of those children. To raise funds for the foundation, each Servcorp location hosts a charity event in which the Servcorp staff decorates the office and plans exciting, recreational activities for the clients. Through these fundraisers, we aim to provide entertainment for our clients and at the same time, support the Tyler Foundation.
On July 18th 2012, Servcorp teams from Nagoya Lucent Tower and Nikko Shoken Building held a joint "2012 Summer Olympics" themed charity event at Nagoya Lucent Tower.
The entire floor was decorated with flags from different countries and balloons that were the same colour used in the Olympic logo. In addition, a large Olympics 5-ring symbol was hung at the entrance of the boardroom, creating an exciting atmosphere, just like the Olympic stadium. The Servcorp staff wore original Servcorp Olympic T-shirts as well. The reception area turned into a bar serving beers, sparkling wines, non-alcohol drinks and the one and only "Olympics" cocktail. The original "Olympics" cocktail made by the Servcorp team was the most popular drink of the night.
During the event, the guests had a lot of opportunity to exchange business cards and network. There was an explanation of the Tyler Foundation by the Servcorp staff, and also, one of the guests introduced their business to the attendees.
At the end of the event, "rock, paper, scissors" games were held between the guests and the Servcorp members. Winners received gifts and all participants seemed to have enjoyed the game as it provided a great opportunity to interact with people whom they have met for the first time. We received some positive feedback from the guests saying that they found the event to be "very valuable as it provided an opportunity to speak to people doing different types of businesses" and "really enjoyable and meaningful."
We were pleased to be able to help our clients network effectively through this event.
A total of 157,050 yen was raised for the Tyler Foundation from this charity event at Nagoya. We greatly appreciate everyone's cooperation, and thank you for attending this event despite everyone's busy schedules.
Servcorp will continue to hold charity events like this at each location. If you are interested, please feel free to contact your dedicated Servcorp staff.
Servcorp Nagoya Lucent Tower
Level 40 Nagoya Lucent Tower
6-1 Ushijima-cho, Nishi-ku,
Nagoya 451-6040 Japan
T +81 52 569 1500
Email: lucent@servcorp.co.jp

Servcorp Nagoya Nikko Shoken Building
Level 4 Nagoya Nikko Shoken Building
3-2-3 Sakae, Naka-ku,
Nagoya 460-0008 Japan
T +81 52 269 8200
Email: nikkoshoken@servcorp.co.jp