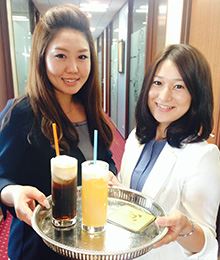 The Servcorp team at Nagoya Lucent Tower hosted a muffin run on Tuesday, June 17th.
To fight off the humid rainy season, we served floats - clients were able to choose from various drinks, including coffee floats and orange floats.
The clients enjoyed the drinks very much, and we were able to have the wonderful opportunity to connect with them as they sipped their drinks.
We hope everyone has a wonderful summer!
Nagoya Lucent Tower
Level 40 Nagoya Lucent Tower
6-1 Ushijima-cho Nishi-ku
Nagoya 451-6040 Japan
T +81 52 569 1500
Email: lucent@servcorp.co.jp