The ideal setting for all your business appointments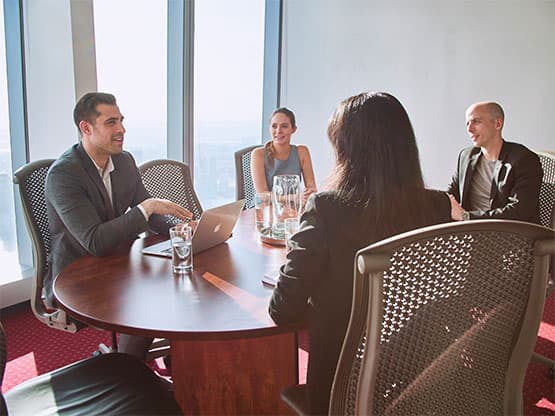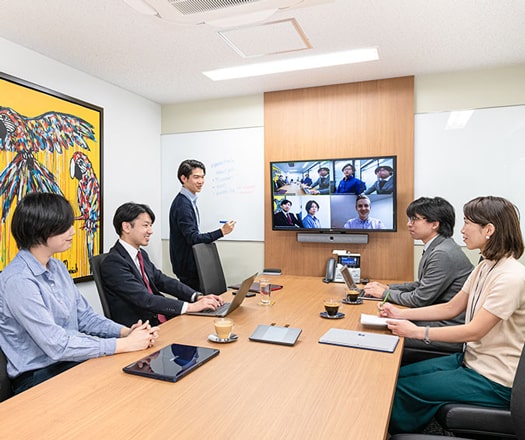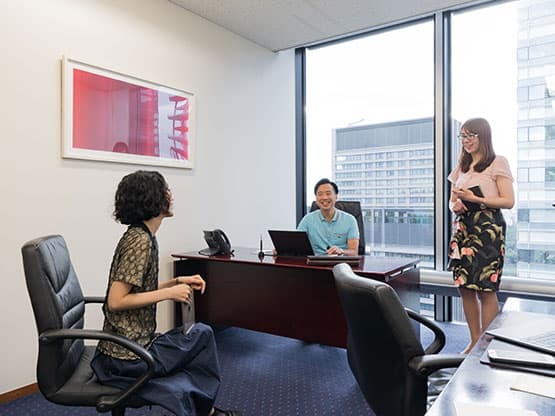 ---
About TOHO Hibiya Promenade Building
The Toho Hibiya Promenade Building overlooks the lush greenery of Hibiya Park and the Outer Gardens of the Imperial Palace - the views from the building are spectacular. It is strategically located at the junction where the Hibiya, Yurakucho, Marunouchi and Ginza districts join. There is a direct connection from the building into the Tokyo Metro Hibiya Station and it is a 3-minute walk from JR Yurakucho Station and it's a short stroll to Ginza, making it an extremely convenient location for business. The building has acquired the CASBEE Smart Wellness Office Evaluation Certification, a building environment evaluation system, featuring specifications and performance that support the maintenance and improvement of the health and comfort of the business people working in the building.
Adjacent to the building is Tokyo Midtown Hibiya, the largest commercial facility in the Hibiya area, where you can enjoy extensive shopping, dining, cinemas and theatres. The prestigious five-star Peninsula Tokyo Hotel is right across the street and the traditional Imperial Hotel is also within walking distance, making the building ideal for business occasions such as business entertainment and functions. Hibiya Park, the first western style park in Japan – is the perfect place to unwind from the business day and view the beautiful gardens and its seasonal flowers.
How to get to TOHO Hibiya Promenade Building
Hibiya Station
Direct connection from Exit A5, Tokyo Metro Hibiya Line, Chiyoda Line
3 min walk from Exit A3 on the Toei Mita Line
Yurakucho Station
3 min walk from Ginza Exit on the JR Line
3 min walk from Ginza Exit on the Tokyo Metro Yurakucho Line
Ginza Station
3-min walk from Exit C1
Tokyo Metro Marunouchi Line, Ginza Line
Narita International Airport:
63 min via Narita Express & JR
90 min via Limousine Bus
Haneda Airport (Tokyo International Airport):
25 min via JR & Monorail
40 min via Limousine Bus
Hibiya Bus Stop:
TO-03, TOH-98
The Hibiya-Yurakucho area, the first international business city in the Tokyo area to be designated as a special national strategic zone by the Cabinet Office, is famous not only as a business area, but also as an entertainment center with many popular theaters and movie theaters. The Hibiya subway station and JR Yurakucho station are the most accessible with many train lines. Hibiya Park, also known as Tokyo's Central Park, is a lush green park where visitors can enjoy seasonal flowers and events.
Within 5 minutes walking distance:
Midtown Hibiya
Ginza shopping district
TOHO Cinemas
Peninsula Hotel
Imperial Hotel
Tokyo Takarazuka Theater
Hibiya Chanter
Hibiya Park
Mitsui Sumitomo Bank
Mizuho Bank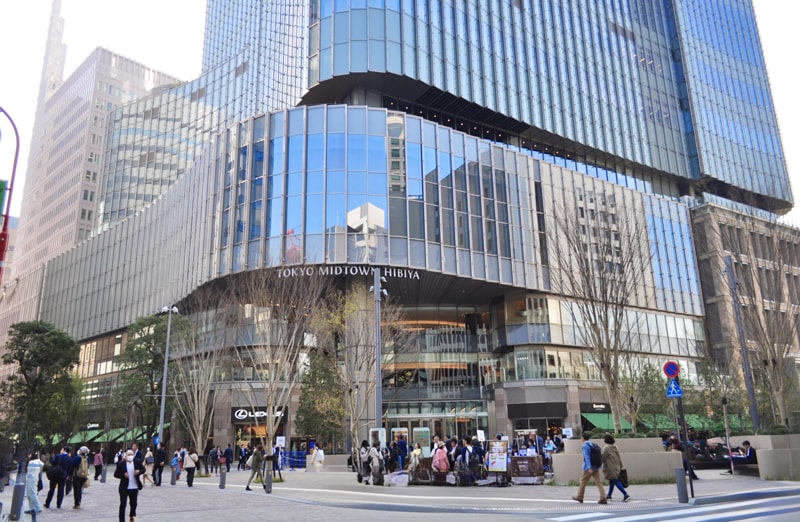 Our clients love:
The Penthouse floor and its spectacular views from the coworking space and offices
The original artwork with Deep Ocean theme and the live reef fish tank
Highly functional building - The building has acquired the CASBEE Smart Wellness Office Rating Certification, a rating system for the building environment
Direct connection to Hibiya Station - The building is directly connected to Exit A5 of Hibiya Station, served by the Hibiya, Chiyoda, and Mita Lines
Surrounded by nature - The building is located in a superb location, with Hibiya Park, the Outer Gardens of the Imperial Palace, and other expansive green areas in front of the building
Extensive shopping, dining, and entertainment available in the immediate surroundings
At this location Servcorp Offers: