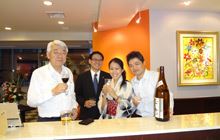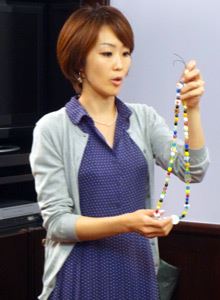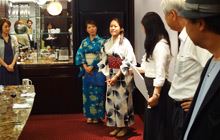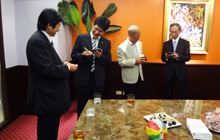 Servcorp Japan is a big supporter of the Shine On! Beads of Courage program by the Tyler Foundation – a non-profit organization dedicated to help children with cancer and the families of those children. To raise funds for the foundation, each Servcorp location hosts a charity event in which the Servcorp staff decorates the office and plans exciting, recreational acitivites for the clients. Through these fundraisers, we aim to provide entertainment for our clients and at the same time, support the Tyler Foundation.
On June 28th, the Nihonbashi Wakamatsu Building location held a "Summer Beer Festival" themed charity event.
The Servcorp staff at Nihonbashi dressed up in "Yukata," a Japanese traditional summer dress, and decorated the whole office with Japanese festival items to create a summer festival atmosphere. The staff served icy cold beer and cocktails, as well as a special sake provided by a client. The most popular drink that night was in no doubt, that sake because everyone enjoyed the experience of having such a rare drink.
During the party, everyone had plenty of time to exchange business cards, so participants had a great opportunity to know about each other's businesses. One of the games played during the event was a quiz game, where participants formed a group to answer questions related to beer. The questions have triggered a lot of fun discussions among team mates, and there was a lot of laughter throughout the game. A lot of participants were surprised with the answers too.( There is so much more to beer than just drinking them!) Winners of the game received gifts provided by Mandarin Oriental Hotel and more special gifts from us.
The game provided a great atmosphere for participants to interact with others. We also received great feedback from the guests after the event: "I was able to spend some meaningful time because I had the opportunity to speak to people from different industries." We were pleased to be able to help our clients network effectively through this event.
At this charity event, a total of 14,000 yen was raised for the Tyler Foundation. We greatly appreciate everyone's cooperation!
Thank you for attending this event despite everyone's busy schedules.
Servcorp will continue to hold charity events like this at each location. If you are interested, please feel free to contact your dedicated Servcorp staff.
Level 7 Wakamatsu Building
3-3-6 Nihonbashi-Honcho Chuo-Ku
Tokyo 103-0023 Japan
T +81 3 6202 7600
Email: wakamatsu@servcorp.co.jp