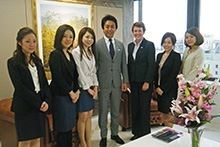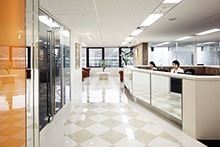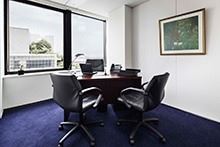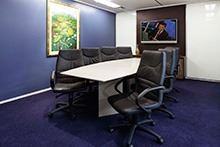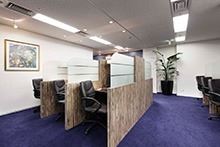 On November 12th, Servcorp welcomed Fukuoka Mayor, Soichiro Takashima, at Fukuoka Tenjin Fukoku Seimei Building to introduce Servcorp's office facilities and state-of-the-art IT infrastructure.
Mayor Takashima's visit to Servcorp was triggered by a recommendation from the Australian Consulate-General Fukuoka. Upon knowing more about Servcorp, Mayor Takashima felt Servcorp's vision is in line with his vision for the City of Fukuoka and decided to visit Servcorp Fukuoka to learn more about its services.
Servcorp offers products and services that support small to medium-sized enterprises operate their business efficiently. It is recognized for having developed the best communications technology in the industry with its own unique global converged network and the fastest broadband, along with a suite of "cloud based" solutions that assist businesses to easily set-up an office in Japan or to expand into overseas markets.
Mayor Takashima believed Servcorp's leading technology is in line with his goal of turning Fukuoka into "The global city of Asia" and also "The centre of leading technology," thus leading to his visit to Servcorp.
Mayor Takashima arrived at Fukuoka Tenjin Fukoku Seimei Building in the morning and was given an office tour that showcases Servcorp's facility and technology in 30 minutes.
During the tour, the staff showed Mayor Takashima the office floor, introduced the video conferencing system using the IP phone in the boardroom, demonstrated telephone answering via the telephone answering platform used by receptionists to manage calls.
Furthermore, Mayor Takashima also had the opportunity to meet one of Servcorp's clients at Fukuoka Tenjin Fukoku Seimei Building, with whom he had a long term business relationship.
After Mayor Takashima's visit, the Servcorp staff was delighted to hear from a Fukuoka City staff that the Mayor has enjoyed his visit and was very impressed with Servcorp's facilities and IT infrastructure.
Overall, on behalf of all the Servcorp staff, we felt very honoured to have the Fukuoka Mayor visit Servcorp in person despite his very busy schedule. Servcorp will continue working hard to support the Fukuoka citizens.
Attendees
Fukuoka City:
Mayor Soichiro Takashima
Staff at Fukuoka City Economy, Tourism & Culture Bureau
Australian Consulate-General Fukuoka:
Ms. Wendy Holdenson, Trade Commisioner
Australian Consulate-General Fukuoka Business Development Manager
Servcorp:
Staff in West Japan and Fukuoka
Websites
Fukuoka City:
http://www.city.fukuoka.lg.jp/english/

Fukuoka Australian Consulate-General Fukuoka:
http://www.australia.or.jp/en/consular/fukuoka/

Servcorp locations in Fukuoka
Serviced and Virtual Offices at Fukuoka Tenjin Fukoku Seimei Building
Level 15 Fukuoka Tenjin Fukoku Seimei Building
1-9-17 Tenjin Chuo-ku
Fukuoka 810-0001 Japan
T +81 92 717 3400
Serviced and Virtual Offices at NOF Hakata Ekimae Building
Level 2 NOF Hakata Ekimae Building
1-15-20 Hakata Ekimae Hakata-ku
Fukuoka 812-0011 Japan
T +81 92 419 2300