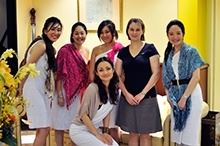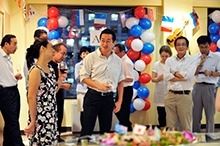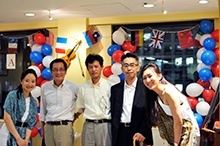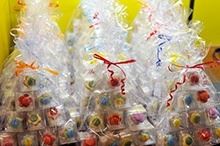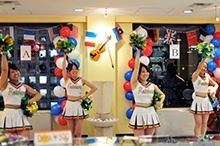 Servcorp Japan is a big supporter of the Shine On! Beads of Courage program by the Tyler Foundation – a non-profit organization dedicated to help children with cancer and the families of those children. To raise funds for the foundation, each Servcorp location hosts a charity event in which the Servcorp staff decorates the office and plans exciting, recreational activities for the clients. Through these fundraisers, we aim to provide entertainment for our clients and at the same time, support the Tyler Foundation.
On July 12th, the Hibiya Central Building location hosted a London Olympics themed charity event.
To boost the Olympic spirit for the event, Hibiya staff members dressed in Greek Goddess costumes and decorated the office with international flags and colourful balloons. Guests arrived in a "sporty business casual" look to also take part in the Olympic atmosphere.
The event started with an energetic performance of four cheerleaders from Keio University. They danced to two upbeat songs at the reception area, impressing our clients with their fantastic cheer and promoting the Olympic spirit even further.
The games were another highlight during the event. Hibiya staff members gathered all of the guests together for a fun quiz game, where participants were asked Olympic-related quizzes, and they had to choose the correct answer from two choices. The top 10 clients with the highest scores received gorgeous prizes, many of which were donated by the clients located in Hibiya Central Building. Gifts included an accommodation coupon for a new luxurious hotel in Bali, stylish yet well-performing hard drive/mobile drive & USB memory set, world-famous Hungarian salami and handy travel kits. There was laughter throughout the game, so the guests seemed to be having a great time - especially the very lucky and knowledgeable 10 who have received prizes!
Towards the end of the charity event, our guests had time to talk to one another and introduce themselves and their company. It was very pleasing for the Hibiya staff to see so many of their clients get to know each other because this is another important aspect that the staff aims to achieve for all events.
Thank you very much to all the participants and supporters of the Hibiya Central Building charity event. With your help we were successfully able to raise 148,963yen, which is more than what we have raised during last year's Tyler Foundation charity event.
Servcorp will continue to hold charity events like this at each location. If you are interested, please feel free to contact your dedicated Servcorp staff.
Level 14 Hibiya Central Building
1-2-9 Nishi Shimbashi Minato-Ku,
Tokyo 105-0003 Japan
T +81 3 5532 7300
Email: hibiya@servcorp.co.jp