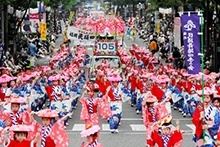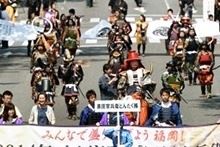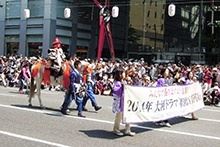 On May 3rd and 4th, "Hakata Dontaku Minato Festival" was held in Fukuoka. This festival is known to have the highest attendance in Japan during Golden Week.
Thanks to the good weather, more than 2.2 million people gathered for this festival, and approximately 20,000 people marched through Meiji Street, which is right in front of Fukuoka Tenjin Fukoku Seimei Building.
"Dontaku" comes from the Dutch word Zon-Dag, which means "holiday". The festival has its roots from the Hakata Matsubayashi parade, which has over 800 years of history along with the Hakata Gion Yamakasa, which is also known as a festival that represents Fukuoka.
Parades and events took place all around Fukuoka City over Golden Week, where people could enjoy a mixture of cultures, such as the traditional Hakata Matsubayashi and Awaodori dances and the more modern Samba and Tahitian dances. There were also several food stalls on Meiji Street and Tenjin Central Park serving famous Fukuoka food such as Mentaiko (seasoned cod roe) and Tonkotsu (pork-flavoured) ramen.
In recent years, we have seen an increase in foreign tourists, which has added an international atmosphere to the festival. Fukuoka Tenjin Fukoku Seimei Building provides a fantastic view of this famous event, and it has allowed us to experience the vibrant energy and culture of Fukuoka's renowned traditional festival.
Servcorp Fukuoka Tenjin Fukoku Seimei Building
Level 15 Fukuoka Tenjin Fukoku Seimei Building
1-9-17 Tenjin Chuo-ku
Fukuoka 810-0001 Japan
T 092 717 3400
Email: tenjin@servcorp.co.jp