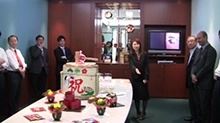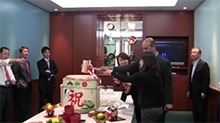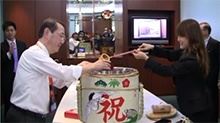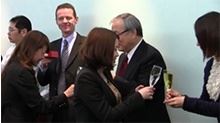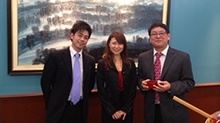 On January 7th, the first business day of the year, Servcorp Shiodome held a Kagami-biraki ceremony in our boardroom with our Serviced and Virtual Office clients to celebrate the new year together.
Kagami-biraki is literally translated as "mirror opening ceremony," with 'mirror' representing happiness and peacefulness, and 'opening' standing for expanding possibilities.
The ceremony was held in the boardroom, and the table was decorated with hyakunin-isshu (Japanese traditional playing cards), along with traditional new year's flower arrangements and a big sake barrel placed in the centre.
Kureha Ohigashi, manager at Shiodome, made a speech wishing all of our clients a happy new year, and two representatives from our clients opened the sake barrel by breaking the top cover with a wooden mallet.
We all toasted with sake that had edible gold flakes inside, and wished everyone a successful year ahead. After the toast, everyone introduced themselves and their businesses, and had the opportunity to get to know their office neighbours. That staff at Servcorp Shiodome felt that it was a great way to wish their clients a Happy New Year, and one of the clients even said "I had a really great time at this event. Thank you very much."
The staff at Servcorp Shiodome would like to wish you all the best for the New Year and please remember - we are available any time to assist you and your business.
Happy New Year!