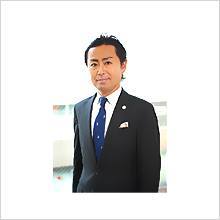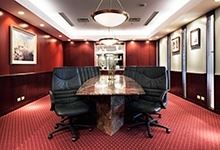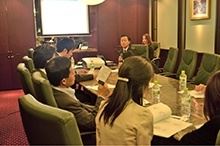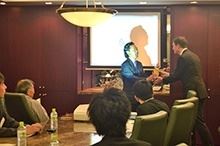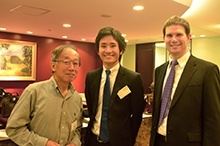 Afterword
We were pleased to have many participants from a wide variety of industries attend our Business Shorts. Participants have mentioned that they have enjoyed networking, and they thought it was a great opportunity to be able to ask questions to the speaker on a one-on-one basis. Once again, we were pleased to have several people attend our monthly event.
Upcoming: Servcorp Business Shorts at Yebisu Garden Place Tower on Thursday, May 23rd.
Servcorp Business Shorts is a monthly event in which we invite a guest speaker and professionals who are willing to share their experience with like-minded business professionals. This seminar also gives you the opportunity to see a Servcorp floor. If you know people who are interested in this event as well as serviced office/virtual office, please extend our invitation to them!
Presentation Title
Easier than you think!
Using Legal Services the Smart Way
Presentation Details
There was a time when there were only around 20,000 lawyers throughout Japan, but over the course of 10 years, the number of lawyers have doubled and people have become more familiar their services. However, despite the familiarity, there still remains a gap between people's perceived impression of lawyers and reality. Through this presentation, I will be providing an overview of how to get the most out of legal services by mainly explaining how the legal fee system works.
Speaker Profile
Mr. Shiro Nakayama(Lawyer Ernesto Law Office)
Mr. Shiro Nakayama graduated from Hitotsubashi University – Faculty of Law - and started his career at Nippon Steel Corporation. During his time at Nippon Steel Corporation, he started off his career in the Iron and Steel division, working in Sales, Production and Engineering to get an overall understanding of the business operations. He later on obtained the role of consultant and developer in the Urban Development division, in which he gained extensive hands-on experience in the legal area, including work which required knowledge with the Building Code, Large-Scale Retail Stores Location Law, Land Readjustment Act, Soil Contamination Countermeasures Act, etc. He has also obtained negotiation skills for negotiating delegation agreements, outsourcing agreements, beneficiary right agreements, shareholders agreements, etc. He left the company in 2004 to pursue his graduate studies at Surugadai University's Faculty of Law and Law Research Department. In 2008, Mr. Nakayama obtained his degree and registered with the Tokyo Bar Association.
Mr. Nakayama then worked as an Associate Lawyer at Tetsumaru Hatanaka Firm, LPC, and later on worked for Bridge Roots for 3 years, in which 2 years were spent working as a Representative Lawyer for the Tokyo office, providing legal support to active small and medium sized businesses. Bridge Roots also has a branch office in Shanghai that was very competitive in the Chinese legal area, and that has allowed Mr. Nakayama to also enhance his experience with dealing issues between Japanese and Chinese businesses.
In August 2012, Mr. Nakayama established Ernesto Law Office. His company's goal is to provide extensive services which allow the customer to experience some truly valuable legal service. Currently, Mr. Nakayama's main interests involve conflicts with real estate, labour and bankruptcy/rehabilitation.
Date
Thursday, May 23rd
18:30 Reception open
19:00 Presentation starts
19:40 Networking
20:30 Close
Venue
Level 18 Yebisu Garden Place Tower
4-20-3 Ebisu Shibuya-ku

5 min walk from directly connected East Exit of Yebisu Station on JR Line*
7 min walk from Exit 1 of Yebisu Station on Hibiya Line.
(A moving sidewalk "Ebisu Sky Walk" available)
We look forward to seeing you there! RSVP to Yebisu Garden Place Tower team by Monday, May 20th.

Telephone: 03-5789-5700
Email: yebisu@servcorp.co.jp
Website: www.servcorp.co.jp/en

Notes
No Participation fee.
The presentations will be delivered in Japanese.
Prior registration required to attend this event. Persons without prior registration will not be allowed entrance.
If we reach our capacity before the registration deadline, we may not accept any more participants.
Please bring your business card to the event.
Please be advised that photos and videos may be taken during this event for marketing/promotional purposes.
Depending on the number of attendees, the presentation may have to be viewed standing up.
Please note that competitors cannot attend this event.