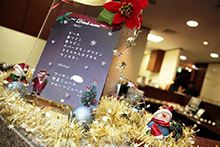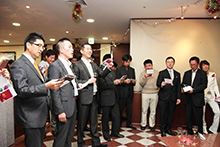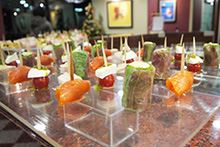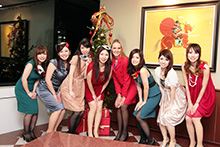 Each year, Servcorp hosts Christmas parties at multiple Servcorp locations.
On December 5th, Servcorp teams from two locations in Nagoya gathered for a joint Christmas Party held at Nagoya Lucent Tower.
The theme of this year's party was "Christmas Carnival" so the floor was fully decorated in red and green colours, bringing out the festive atmosphere. The Servcorp team members dressed in matching Christmas colours and wore carnival masks and false feather eyelashes.
The team was happy to see a lot of attendees wearing Christmas themed clothes, which also helped enhance the Christmas atmosphere. The party was very lively with the live Jazz band performing Christmas songs throughout the night. Furthermore, Olga Vlietstra, General Manager Japan, attended Nagoya's party for the first time and presented her speech in Japanese in front of the guests.
During the party, the guests played Bingo games and enjoyed networking with other attendees. Later in the evening, the best Christmas themed dresser was selected and was given a bottle of Moet & Chandon for the prize.
Overall, the Christmas party was very successful and the team received some generous comments from the guests such as, "We had a really fun time," and "We would like to come to the Christmas party next year too!"
At the end of the night, all attendees sang "We Wish You a Merry Christmas" and "Silent Night" together.
The team was very thankful that so many clients joined in the Christmas Party. Please stay tuned for next year's party!