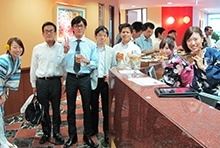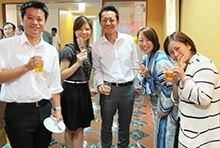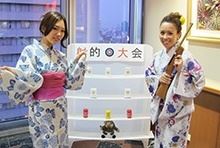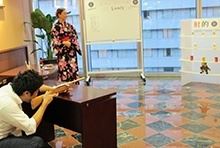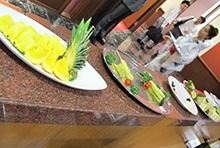 At Servcorp, we support Shine On! Kids, an NPO dedicated to help children with cancer and their families. Out of the many programs offered by the organization, we actively support Beads of Courage®, a program designed to improve patients' resilience and resistance systems.
Starting with these charity events, Servcorp continues to raise funds for Beads of Courage®, by holding regular events.
This charity event is one of the several events held by Servcorp to raise funds for Beads of Courage ®.
On August on August 9, the teams at three locations in Osaka, Umeda Hilton Plaza West Office Tower, Edobori Center Building, and Cartier Building- Shinsaibashi Plaza, held a joint charity even.
The event's theme was "Japanese-style summer festival." The teams decorated the venue with Japanese summer festival items, and the team members all dressed up in Yukata to welcome the guests.
For the entertainment for the night, the team held a "Shateki" game (Japanese style shooting game). The clients really enjoyed the game, and one of the clients got so excited they posed as the character in "Golgo 13" (famous Japanese comic book). As two highest scorers were determined, they fought a sudden-death match to pick the winner.
Through this event, the teams have raised 115,000 JPY for the donation. Without everyone's cooperation, we would not have succeeded. Thank you all very much!
Servcorp Umeda Hilton Plaza West Office Tower
Level 19 Hilton Plaza West Office Tower
2-2-2 Umeda Kita-ku
Osaka 530-0001 Japan
T +81 6 6133 5700
Email: hilronplazawest@servcorp.co.jp

Servcorp Edobori Center Building
Level 9, Edobori Center Building
2-1-1 Edobori Nishi-ku
Osaka 550-0002 Japan
T +81 6 6225 1000
Email: edobori@servcorp.co.jp

Servcorp Cartier Building - Shinsaibashi Plaza
Level 4 Shinsaibashi Plaza Building Shinkan
3-12-21 Minami-Senba Chuo-ku
Osaka 542-0081 Japan
T +81 6 6258 3700
Email: shinsaibashi@servcorp.co.jp