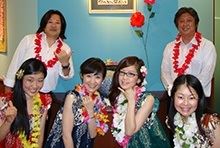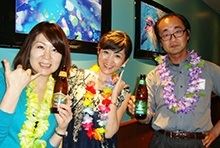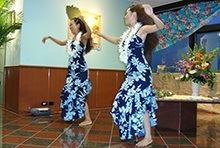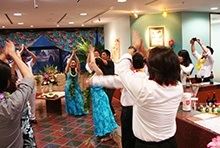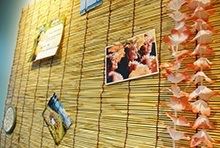 At Servcorp, we support Shine On! Kids, an NPO dedicated to help children with cancer and their families. Out of the many programs offered by the organization, we actively support Beads of Courage®, a program designed to improve patients' resilience and resistance systems.
This charity event is one of the several events held by Servcorp to raise funds for Beads of Courage ®.
On July 24th, Ariake Frontier Building held "Aloha Night," a Hawaiian themed summer charity event.
The Ariake Team decorated the ocean view reception area with bright hibiscus-patterned fabric, palm trees, and colorful tropical flowers, creating a fun-filled Hawaiian beach atmosphere. Various Hawaiian trivia were displayed on the wall, which served as a great conversation starter among clients who met for the first time.
Upon the guests' arrival, the guests were given colourful lei flower necklaces to wear during the event. Once everyone received a glass of Champaign, the party officially started! The guests enjoyed getting to know one another as they tried various types of drinks; 4 kinds of Hawaiian beer, Blue Hawaii, and pina colada specially served by one of the Ariake staff.
The boardroom was turned into a beautiful under-the-sea environment, in which various Hawaiian foods were displayed. When the door to the boardroom opened in front of the guests, they were wowed at the astonishing transformation of the boardroom which was filled with rays of blue translucent light, bubbles, and silhouette of a scuba diver. The most popular food items of the night were spam musubi and tuna tempura.
The excitement reached its highest level when the beautiful Hula dancers entered the reception area and performed the Hula dance. After the performance, the dancers gave the guests a quick Hula lesson, and everyone was able to dance together for the last song.
It was a very delightful night, and everyone seemed to have enjoyed the relaxed and fun-filled atmosphere, which is the one of the best characteristics of Ariake Location.
A total of 67,000 yen was raised from the charity event at Ariake. We greatly appreciate everyone's participation to this great cause.
Servcorp will continue to hold charity events at each location. If you are interested in participating, please feel free to contact your dedicated Servcorp staff.
Servcorp Tokyo Big Sight – Ariake Frontier Building Tower B
Level 9 Ariake Frontier Building Tower B
3-7-26 Ariake Koto-ku
Tokyo 135-0063 Japan
T +81 3 5530 9100
Email: ariake@servcorp.co.jp