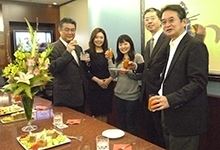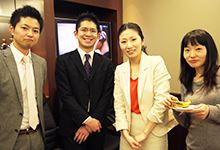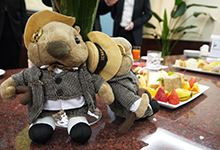 The Servcorp Lucent Tower team organized a Breakfast Meeting with their clients on Tuesday, March 18th.
Many clients have come to us saying that even though they see each other in the office, they rarely have the opportunity to say hello or make small talk amidst their busy work schedule. With these words in mind, the Servcorp Lucent Tower team decided to organize a Breakfast Meeting event where clients get to meet and network with other clients within the office.
For breakfast, the team prepared sandwiches, pastries, fruits and vegetable juices for clients to enjoy. During the meal, the team introduced new features from Servcorp including a demonstration of the Servcorp Onefone. The clients were also able to mingle and network with each other, making the event a huge success.
We were delighted to see the smiles on the clients' faces throughout the event, and very much enjoyed having the opportunity to interact with them. Please stay tuned for the next event at Nagoya Lucent Tower.
Nagoya Lucent Tower
Level 40 Nagoya Lucent Tower
6-1 Ushijima-cho Nishi-ku
Nagoya 451-6040 Japan
T +81 52 569 1500
Email: lucent@servcorp.co.jp