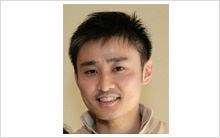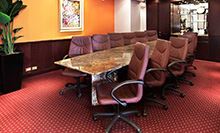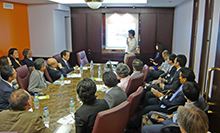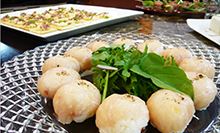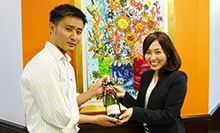 Afterword
We were pleased to have 25 participants from a wide variety of industries attend our Business Shorts. Participants have mentioned that they were able to learn about the recent trends in the IT market, and that they enjoyed a young entrepreneur presenting from a fresh new perspective. Once again, we would like to thank all the participants who attend our monthly event.
Servcorp Business Shorts at Nihonbashi Wakamatsu Building on Thursday, May 22nd.
Servcorp Business Shorts is a monthly event in which we invite a guest speaker and professionals who are willing to share their experience with like-minded business professionals. This seminar also gives you the opportunity to see a Servcorp floor. If you know people who are interested in this event as well as serviced office/virtual office, please extend our invitation to them!
Presentation Title
Turn your SKILLS into a successful business. How to create a "skill-sharing" e-marketplace
Presentation Details
As e-marketplaces continue to be a popular method of running a business, how does one start an e-marketplace business?
For example, "Street Academy, Inc." is a web service that connects people who want to teach and people who want to learn by allowing anyone to easily arrange a class and also to sign-up for these classes.
This peer-to-peer education service was established in July 2012 and already has over 15,000 registered users, 700 classes/workshops and continues to grow.
During the seminar, I will explain how to grow a consumer-to-consumer (CtoC) based e-marketplace from a business perspective through my experience as the founder of Street Academy, Inc.
Speaker Profile
Mr. Takashi Fujimoto (Street Academy, CEO)

Mr. Takashi Fujimoto started his career at Universal Studios as a theme park ride engineer. After working as operation planner engineer for FedEx's international delivery operation, he obtained MBA from Stanford and joined private equity fund Carlyle Group's Japan team, investing in various mid-sized companies. In 2012, he left the financial career to start Street Academy, a leading CtoC skill-sharing platform with a mission to democratize education in Japan.

Website: http://www.street-academy.com/

Date
Thursday, May 22nd
18:30 Reception open
19:00 Presentation starts
19:45 Networking
20:30 Close
Venue
Level 7 Nihonbashi Wakamatsu Building
3-3-6 Nihonbashi-Honcho Chuo-Ku

Right across the street from Exit 6 of Shin-Nihonbashi Station on JR Sobu line
3 min walk from Exit A9 of Mitsukoshi-mae Station on Tokyo Metro Ginza Line and Hanzomon Line
5 min walk from South Exit of Kanda Station on JR Line
5 min walk from Exit 4 of Kodenmacho Station on Tokyo Metro Hibiya Line
Telephone: +81 3 6202 7600
Email: wakamatsu@servcorp.co.jp
Website: www.servcorp.co.jp/en

Notes
The presentations will be delivered in Japanese.
No Participation fee.
Prior registration required to attend this event. Persons without prior registration will not be allowed entrance.
If we reach our capacity before the registration deadline, we may not accept any more participants.
Please bring your business card to the event.
Please be advised that photos and videos may be taken during this event for marketing/promotional purposes.
Depending on the number of attendees, the presentation may have to be viewed standing up.
Please note that competitors cannot attend this event.