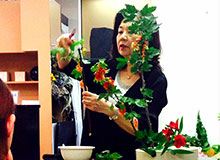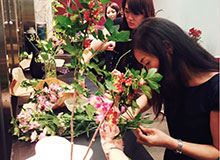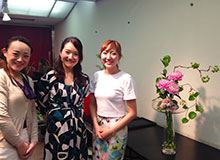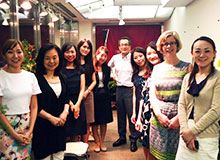 The staff from Hibiya Central Building and Shinjuku Nomura Building attended an ikebana workshop on Wednesday, June 18th.
The staff members were invited by one of their clients at Hibiya, and together they learned ikebana at the IKEBANA ATRIUM in the Grand Prince Hotel Shintakanawa.
The instructor, Ms. Eikou Sumura, is the master instructor of Sogetsu, one of the three major schools of ikebana. As an "ikebana delegate" of Japan's Ministry of Foreign Affairs, Ms. Sumura actively promotes ikebana worldwide. Her ikebana works are displayed in many hotels, including the Cerulean Tower Tokyu Hotel.
Ms. Sumura promotes Japanese culture worldwide through her ikebana. At the same time, she mentioned during the workshop that "Ikebana is now widely spread all over the world, but like judo, there has been a decline of interest within Japan." One of her goals is to have as many Japanese people as possible get to know about ikebana.
The Servcorp staff members were able to learn the art of ikebana in a very relaxed yet creative atmosphere.
If you are interested in arranging flowers, why not give ikebana a try? It's definitely worth it!
Hibiya Central Building
Level 14 Hibiya Central Building
1-2-9 Nishi Shimbashi Minato-Ku
Tokyo 105-0003 Japan
T +81 3 5532 7300
Email: hibiya@servcorp.co.jp

Shinjuku Nomura Building
Level 32 Shinjuku Nomura Building
1-26-2 Nishi Shinjuku Shinjuku-ku
Tokyo 163-0532 Japan
T +81 3 5322 2900
Email: nomura@servcorp.co.jp