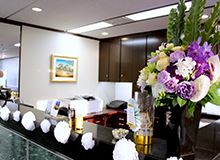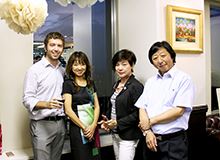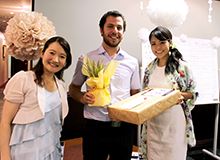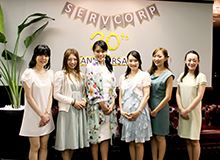 On Tuesday, July 8th, teams from Shinjuku Nomura Building and Shinjuku Oak City held a joint charity event to raise funds for Shine On! Kids, a non-profit organization that supports children with cancer and their families in Japan.
This year marks the 20th year that Servcorp has been in business in Japan, and to top it off, Shinjuku Nomura Building happened to be the first floor that opened in Japan. Naturally, the theme of the event was "Servcorp Japan's 20th Anniversary."
To match the interior colors of the floor at Shinjuku Nomura Building, the teams decked the reception area with light green and white decorations. The Nomura team members got dressed in green while the Oak City team members wore white.
During the event, the teams hosted games such as a song intro quiz on 90's music, and trivia quizzes on events that happened in 1994, the year that the floor at Shinjuku Nomura Building opened. Clients seemed to have a lot of fun during the event, which was very rewarding for the staff to watch.
Clients mentioned during the event, "This was so much fun! I'm happy I won the quiz," "I took pictures from the event so I'll upload it to our company blog!" and "I brought a business partner who's considering using Servcorp. This was a great opportunity to show her your facilities."
We truly appreciate everyone for attending, as well as clients who provided donations early due to them not being able to make it to this event. Thank you for everyone's kindness and support.
Shinjuku Nomura Building
Level 32 Shinjuku Nomura Building
1-26-2 Nishi Shinjuku Shinjuku-ku
Tokyo 163-0532 Japan
T +81 3 5322 2900
Email: nomura@servcorp.co.jp

Shinjuku Oak City
Shinjuku Oak City - Level 8 Nittochi Nishi-Shinjuku Building
6-10-1 Nishi-Shinjuku Shinjuku-ku
Tokyo 160-0023 Japan
T +81 3 5325 3100
Email: nishishinjuku@servcorp.co.jp