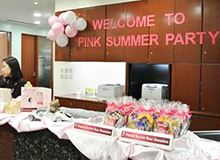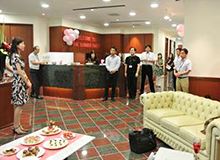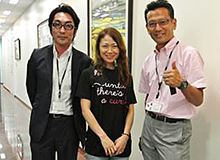 At Servcorp, we support Run For The Cure® Foundation, an NPO whose mission is to eradicate breast cancer in Japan as a life-threatening disease through education, timely screening, and treatment.
Servcorp Shiodome Shibarikyu Building held a charity event to raise funds for the Foundation on Wednesday, August 20th.
Team members greeted their guests dressed up in casual T-shirts that they bought from the Foundation.
To kick of the event, the team asked attendees to introduce themselves in a 1 minute speech. Afterwards, Mr. Naoki Takagawa, representative director and president of GMS Japan K.K., gave a mini presentation on social media. Attendees all seemed to be enthralled by the presentation.
Attendees also actively networked with each other, exchanging business cards and passionately debating over business.
During the party, attendees participated in a Servcorp trivia contest. Whenever someone answered a question correctly, everyone clapped and cheered. The game turned out to be a great success as attendees were able to learn about Servcorp's history and services while having a great time.
All in all, it turned out to be a successful event with everyone's cooperation and thoughtfulness. We truly appreciate everyone who participated and donated for this event.
Shiodome Shibarikyu Building
Level 21 Shiodome Shibarikyu Building
1-2-3 Kaigan Minato-ku
Tokyo 105-0022 Japan
T +81 3 5403 6500
Email: shiodome@servcorp.co.jp