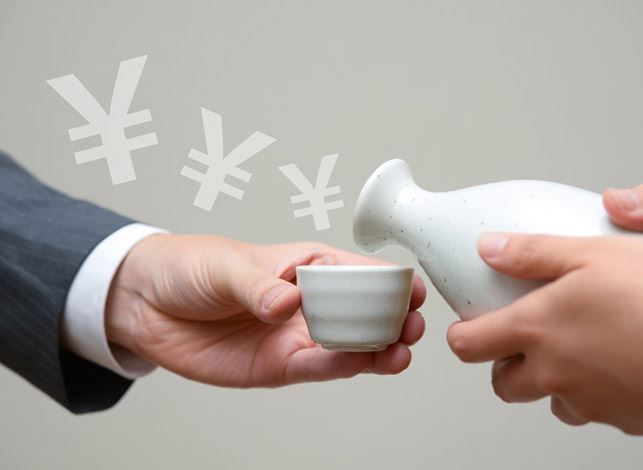 Entrepreneurs are in a tough spot of having to decide for themselves on how to operate their business. If you're working for a company, you can easily get a sense of direction by asking your boss or even referring to the company manual. However, entrepreneurs and business owners don't have that luxury. They always have to make the final decision themselves.
And how about expenses - especially entertainment related? How would one decide how much to spend on these types of expenses?
Servcorp asked 100 entrepreneurs on their perception of entertainment fees.
How much do business owners spend on entertainment expenses per month?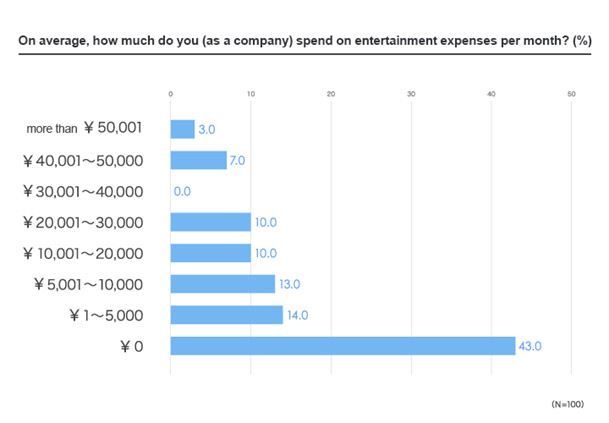 Generally speaking, it appears that approximately 40% of the respondents do not spend any money on entertainment expenses. The overall average is 10,570 yen with most businesses keeping their entertainment expenses within 60% of their business earnings. Given that, let's delve into some of the underlying reasons regarding entertainment expenses.
Are you FOR or AGAINST entertainment expenses?
Firstly, let's take a look at how people perceive these expenses. We've categorized the answers into 4 different groups:
1. The "Actively FOR group"
2. The "Passively FOR group"
3. The "Not necessary group"
4. The "Unconcerned group"
The "Actively FOR group" says:

"Some conversations over drinks do lead to business opportunities from time to time." (Male/50 years old/Video Creation)
"I don't mind if it doesn't produce results immediately." (Male/52 years old/Wholesale, Retail)
"I'm able to strengthen the relationship with someone I have met at a networking event." (Male/53 years old/IT Company)
"It allows me to open up a new field." (Male/36 years old/Service Industry)
From the responses, even if the group is "actively FOR" entertainment expenses, only a handful seem to have been able to turn their connections into a business opportunity. The most common perceptions were comments such as "it's hard to know when your entertainment expense has led to a business opportunity. What's important is for others to know your existence as much as possible"(Male/45 years old/Construction, Real Estate) or "I see it as an investment, for others to understand my personality first before talking business." (Male/38 years old/Broker, Agency)
Therefore, people in this group perceive entertainment expense as an investment for strengthening relationship with others rather than for getting new business deals. When looking at trends among different industries, it appears that service industries take up the majority of this group.
The "Passively FOR group" says:

"It hasn't produced much of a result, but I will continue to spend." (Male/59 years old/Construction, Real Estate)
"I have only spent it on meals and it hasn't really led to many business opportunities." (Male/64 years old/Medical, Welfare, Education)
"I spend just enough to keep people from forgetting me."(Male/53 years old/IT)
"I have no policy to actively spend on entertainment fees" (Male/51 years old/IT)
Even within "Passively FOR group" there is a spectrum of opinion ranging from those who do not want these expenses, but feel it's inevitable, and those who have a taken a firm stance that these expenses are a necessity. The following quotes illustrate this point:
"If possible, I don't want to spend any money, but it's inevitable" (Male/58 years old/Medical, Welfare, Education)
"Purchasing seasonal gifts to my customers is a must." (Male/54 years old/Medical, Welfare, Education)
The most common responses were, "you do need to spend some money" and "I will spend if necessary". In general, this group does not see entertainment expenses as vitally important; therefore, they tend to think of it as an "expense" rather than an "investment" like the other group. This leads to keeping their "expense" as low as possible and on an as needed basis.
The "Not necessary group"

"It's a waste of time and money." (Male/45 years old/Wholesale, Retail)
"I don't need to expand my connections, so this is totally unnecessary." (Male/50 years old/Contract Work)
"My business does not entail entertaining others." (Male/45 years old/Wholesale, Retail)
Several from this group have indicated that entertainment expenses are not a necessary part of their business. Feelings range from simply dismissive to disdainful of entertainment expenses, but overall this group is solidly against the idea.
The "Unconcerned group"

"It can be part of my necessary expenditure, so I don't worry about it too much." (Male/38 years old/IT)
"I've been spending but haven't thought too much about it." (Male/58 years old/IT)
From our overall analysis, only around 10% of the people who have responded think that entertainment expenses do not serve any purpose. However, there are also only a few who think that their entertainment spending will directly affect their business.
Furthermore, upon the understanding that these expenses do not directly provide business opportunities, there are some who think it is an "investment" and others who think of it as an "expense."
How people perceive these expenses may be based on their business model and/or their business earnings, but what's safe to say is that money means a great deal more to business owners than to people who are employed by a company. That being said, it seems that deep-down people really just want to keep their entertainment expenses as low as possible.
【Survey Details】
Survey Title: Survey related to work
Survey Method: Internet Research
Survey Period: April 16 – 22, 2015
Survey Respondents: 100 male/female respondents across Japan who have experience starting a business (Qzoo members)