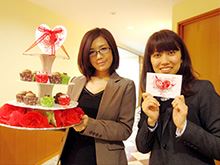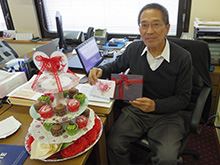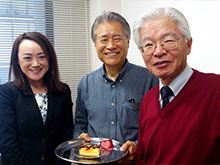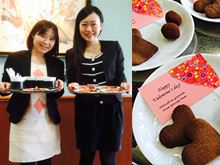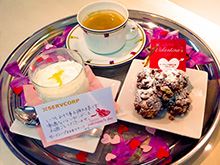 Happy Valentine's Day from Servcorp!
We hope you had an enjoyable Valentine's Day last Saturday.
At Servcorp, we celebrate Valentine's Day by delivering sweets to our clients at every Servcorp location.
Each location prepares something special for their clients,
Shiodome Shibarikyu Building
At Shidome Shibarikyu building, the staff was able to enjoy a wonderful Valentine's Day with clients.
The staff delivered waffle cake garnished with strawberries and whip cream, and topped with chocolate syrup and powdered sugar to the clients
The waffle cake was nicely decorated on a plate along with a handmade card with a heart that pops out.
Also to go the extra mile to show appreciation for our clients, each client received a special handmade decoration showing their initials written with a chocolate pen. The staff aimed for something a little more unique for the Valentine's Day decorations.
We were lucky enough to have clients show their appreciation by saying, "it's so beautiful it seems like a waste to eat it!" or "that's amazing that you even prepared a card!"
We felt so grateful to be able to make our clients happy. For the staff, it was an excellent Valentine's Day!
Nagoya Nikko Shoken Building
At Nagoya Nikko Shoken Building, the staff combined its 10 year anniversary celebration with Valentines.
The floor's 10th anniversary was actually last year, but there were 2 clients who would have also reached their 10 year mark with Servcorp in February 2015, so we thought it was a great occasion to celebrate this milestone along with Valentine's Day.
The staff at Nagoya Nikko Shoken Building prepared cute cupcakes decorated on a pretty fairy-tale-themed 3 tier cake stand.
Everyone loved the cupcakes, and it was a great way for clients to take a nice break from their busy day.
When the staff visited the clients who have reached their 10 year anniversary, they surprised the clients by presenting a special gift in addition to the cupcakes.
At Servcorp Nikko Shoken Building, we would like to continue strengthening our relationship with the clients and provide a nice and warm work environment.
Hibiya Central Building
The staff at Hibiya Central Building prepared some tasty cheese tart and chocolate cake for their clients.
They were happy to hear kind words from the clients such as "Thank you for delivering sweets on Valentine's day every year!"
Ariake Frontier Building Tower B
At Ariake Frontier Building Tower B, the staff made cookies, truffles and original Valentine's Day card, all from scratch and delivered them to their clients.
Everyone was very pleased with the sweet surprise.
Fukuoka Tenjin Fukoku Seimei Building
Home-made lemon cream cheese cake and chocolate crunch were delivered to the clients at Fukuoka Tenjin Fukoku Seimei Building.
Some clients who have been with Servcorp for a long time have told us that they always look forward to Valentine's Day because they usually receive sweets from the staff:
"I look forward to this every year. When I receive sweets during work, I feel I can work harder!"
"I came back to the office today because I couldn't miss Valentine's Day here."
For some clients, it was their first time to experience Valentine's Day at Servcorp, leaving many surprised:
"I didn't know that Servcorp also does something like this!"
"The sweets were really delicious."
"Are you sure it's home-made? You can problem open a shop!"
This occasion has been a great way to further emphasize Servcorp's hospitality and get to know the clients better.
Shinjuku Nomura Building
At Servcorp Shinjuku Nomura Building, the team created dozens of cupid's arrow cupcakes with handwritten chocolate messages on the plate.
With a surprised look on their face, our clients were amazed with the cute decorations and personalized plates.
Some of the clients even brought their finished plates to our reception to show that they had eaten everything including the chocolate letters!
We also received an email from a lady who reflected on how these cupcakes motivated the "boys" for the rest of the afternoon.
Receiving such heart-warming comments made our Valentine's day all the more special! As a team, we wish to continue delivering excellent services to see happy faces every day.
Marunouchi Trust Tower
During the second week of February, the Servcorp Marunouchi team planned an early Valentine's Day surprise for clients with a box of chocolates.
Delivery of these sweet gifts lifted spirits and spread a feeling of excitement across the floor, cheering up especially those who were starting off the week with the Monday blues.
The Marunouchi team had also recently welcomed a few new members, as well as many new clients, so it became a great opportunity for new interactions and conversations.
With two types of chocolates to choose from, the surprise delivery turned out to be another enjoyable event for kicking off the week with a big smile!
Conclusion
At Servcorp, we strive to create a healthy office environment in which clients can enjoy seasonal celebrations. Please stay tuned for the next seasonal event!