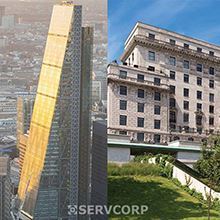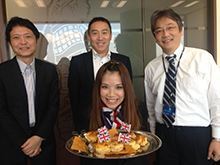 As Servcorp continues its expansion overseas, one of the most impressive locations include the One World Trade Center in New York and 2 new locations that have recently opened in London:
ONE MAYFAIR PLACE
THE LEADENHALL BUILDING
To celebrate this occasion, the staff at Servcorp Nagoya Lucent Tower delivered London themed refreshments to their clients.
Wearing the union jack patterned flag around their necks, the staff delivered authentic scones with strawberry jam and rich clotted cream, traditionally made in England, to their clients.
The clients were surprised to hear that 2 new locations in London have opened within a short amount of time, and the scones were also a big hit.
Many have mentioned that the scones were very fluffy and tasteful compared to the non-authentic ones that are usually dry and crumbly.
We were happy to leave a lasting "London" impression for our clients that day, and stay tuned for our next special themed refreshment delivery.
*Servcorp's Serviced Office clients can use any Servcorp office across the globe for free up to 5 days a month. We highly encourage clients who plan on traveling overseas to use the offices at our new fantastic locations.
Nagoya Lucent Tower
Level 40 Nagoya Lucent Tower
6-1 Ushijima-cho Nishi-ku
Nagoya 451-6040 Japan
T +81 52 569 1500
Email: lucent@servcorp.co.jp