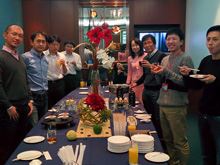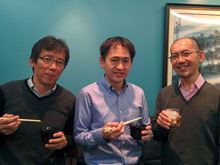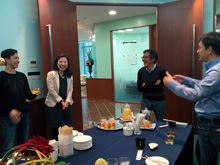 Servcorp Shiodome Shibarikyu Building held a New Year's party in the boardroom on January 22nd.
For this occasion, we decorated the boardroom to fit the New Year's theme and also prepared some traditional New Year's Japanese dishes.
When the clients entered the party venue, a lot of them were amazed with the new décor of the boardroom. Some even said, "Wow, This looks truly amazing!"
A lot of the clients who have attended the party work on the same floor, but rarely have chances to get to know each other because they are in separate offices. Therefore, we were happy to hear that several clients have enjoyed networking with each other from this occasion.
"Great networking opportunity," "Amazing traditional Japanese table decorations," and "Happy to have my first zouni (traditional soup with rice cake) of the year," was some of the feedback we have received from the guests.
It was great to hear that everyone enjoyed the party, and we were also grateful to spend time with our clients.
Servcorp Shiodome Shibarikyu Building will continue to host many events throughout the year, so please stay tuned! Looking forward to supporting your business this year as well.
Shiodome Shibarikyu Building
Level 21 Shiodome Shibarikyu Building
1-2-3 Kaigan Minato-ku
Tokyo 105-0022 Japan
T +81 3 5403 6500
Email: shiodome@servcorp.co.jp