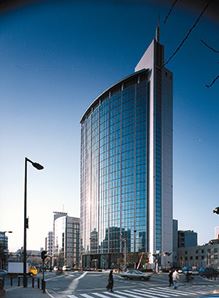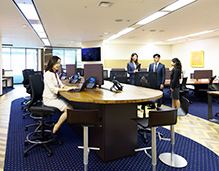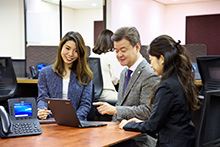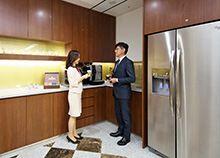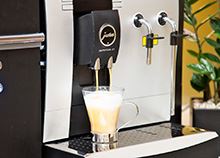 Servcorp, the World's Finest Serviced Offices, Virtual Offices and Coworking Space provider, has opened a 5 star coworking lounge at Level 9 Edobori Center Building on October 7, 2015.
Servcorp's Coworking Space is the most high-tech of its kind, occupying 180m2 of space fully fitted out with latest state-of-the-art technology and highest WiFi standards.
No more working from noisy Coffee Shops! From just ¥2,500/day* including FREE & tasty coffee!
Special offer: First 2 months 50% OFF!
With this offer, enjoy coworking space for ¥1,250/day for first 2 months.
Inclusions:
Fulltime access to 5 star coworking space, on Weekdays from 7:30am – 7pm**
Free high quality Coffee and Twining's tea
Free secure and fast Wi-Fi
Free secure storage unit
Communal workstations or semi-private cubicle workstations
Access to printers, photocopiers/scanners and shredders
Quiet rooms for telephone calls which include acoustic walls for sound proofing,
Private Meeting rooms
Bi-lingual support staff for ad-hoc needs
*excluding tax
**excluding public holidays
"Servcorp has heavily invested to build the world's first 5 star Coworking space in 5 cities around the world – Osaka Tokyo New York and London. Coworking is generally associated with low cost space and little service besides internet access. With state-of-the-art collaborative space at great addresses and the ability to use ad-hoc business support services, our new coworking space is one of a kind!" says Olga Vlietstra, General Manager of Servcorp Japan K.K.
<What makes it state-of-the-art?>
The coworking lounge has been built with a 5-star fit out, creating a highly productive and comfortable environment for its customers. The facility provides both private work stations and a large solid timber table for collaborative working. Every desk has access to main power as well as high speed charging plugs for multiple devices, and all seating consists of ergonomic leather designer chairs to ensure maximum comfort. Members can access a luxury pantry and enjoy free coffee and tea.
Furthermore, the space has been designed to have maximum functionality with the latest technology; the coworking area has superfast WiFi as well as each workstation is hard cabled with fast Ethernet. A free presentation screen is mounted to the wall where members can share a document or presentation using click-share Wi-Fi technology. Each workstation is equipped with a Cisco IP phone with video capability and a beacon that responds to the Servcorp "OneAp" (included with the separate phone service option) which automatically registers the handset to the Member's phone number.
All of the above are accessible on a full-time basis (7:30am – 7:00pm Weekdays) with a monthly membership of only 50,000 yen/mth (tax exclusive) or just ¥2,500 per business day!
<Additional services available>
One of the great advantages of using Servcorp's coworking space station is the extensive number of services available to boost your business.
Phone option: with an additional 10,000 yen/month to your membership, a local phone number will be issued so you can use the number as your office number. The number will be answered by our highly trained dedicated receptionist and transferred to your desired device. The price also includes the Onefone App and OneAp – apps that allow you to take calls and make calls using your local business phone number on your smart phone. When visiting the coworking area, you can pick any seat, swipe your smart phone over the beacon and the desk phone will automatically register to the Member's business phone number. The Member has up to 10,000 yen/month of free outbound calls from this app.
Address option: with an additional 10,000 yen/month to your membership, you can use the prestigious Edobori address for your business. For example, you can use the address for business registration, business cards, websites and company letterhead. Mail can be received and forwarded or simply picked up when visiting the coworking lounge.
Secretarial services: on a pay-as-you-go basis from as little as 10 minutes, you can ask our highly trained and bilingual secretaries to help with your tasks. Some examples of tasks include making appointments on your behalf, sales calls, translations, creating presentation slides, business trip arrangement, event preparation, etc.
Servcorp Coworking Space – A Great Place to Work!
Level 9 Edobori Center Building
2-1-1 Edobori Nishi-ku
Osaka 550-0002 Japan
T +81 66225 1230
Email: edobori@servcorp.co.jp
Coworking spaces are also available at Level 1 Marunouchi Yusen Building and Level 45 Ikebukuro Sunshine 60.
Level 1 Marunouchi Yusen Building
2-3-2 Marunouchi, Chiyoda-ku
Tokyo 100-0005 Japan
T +81 35533 8733
Email: yusen@servcorp.co.jp
Level 45 Ikebukuro Sunshine 60
3-1-1 Higashi Ikebukuro Toshima-ku
Tokyo 170-6045 Japan
T +81 35979 2550
Email: sunshinecity@servcorp.co.jp