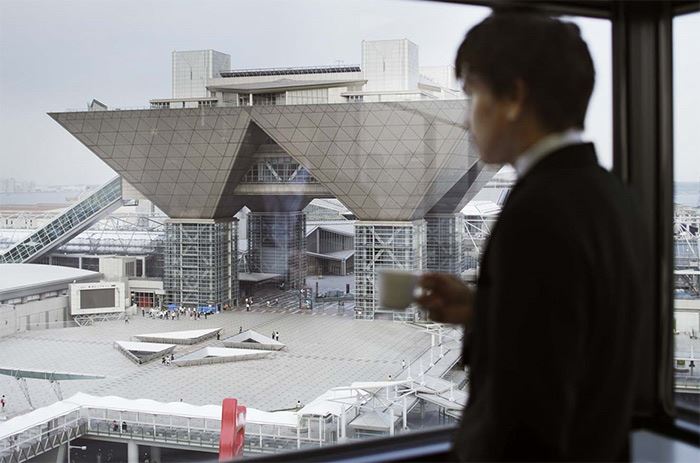 One of the most exciting exhibitions just took place a stone throw away from the Servcorp serviced offices at Tokyo Big Sight: the 44th Tokyo Motor Show 2015. As every year, many Servcorp clients from around the world came to pay a visit to the Servcorp Serviced Office at Ariake Frontier Building whilst they attended the Motor Show. The Tokyo Motor Show aims to become the world's leading technology motor show and is a favourite of car lovers from around the planet. This 60 year old motor show was first held at Hibiya Park in 1954 and this year the anniversary was commemorated with a parade through Tokyo a week before the opening of the show. Over 70 passenger vehicles and motorcycles from 1958 to 2014 that symbolize each era were on the Parade that went from Ginza to Hibiya Park to Nihonbashi and back to Ginza.
Tokyo Motor Show 2015 official Poster from Light Painting Phototography
Many Japanese brands were on show alongside some of the big Western car manufacturers. Besides the showing of the Concept cars of Nissan and Mercedes, one of the highlights was the revealing of the magnificent Mazda RX-Vision two-seat coupé, with its new generation Skyactiv-R rotary engine.
The Exhibitions at Tokyo Big Sight are often the reason for Servcorp serviced office or virtual office clients to visit our location, catch up on business at the coworking lounge or simply grab a cup of complimentary coffee. Car brands and car parts manufactures are historic clients of Servcorp both in Tokyo and in our serviced offices in Nagoya, where the heart of the car industry is located.
Due to popular demand, Servcorp created special meeting room or office packages to accommodate for the clients who once or twice a year need short term access to an office, meeting space or project space whilst they attend business at Tokyo Big Sight. A lot of business opportunities arise at exhibitions and trade shows in Tokyo Big Sight. The ability to access an office or a Boardroom away from the busy and noisy exhibition halls, will not only impress your clients, but provide the perfect environment to close a deal and make more sales for your business.
The Servcorp serviced offices official mascot, named "Sidney, the world's wisest wombat" was happy to sit in his vintage Mercedes-Benz 500K roadster from 1936!