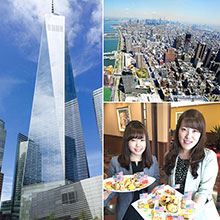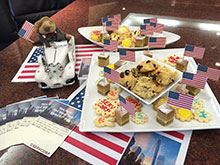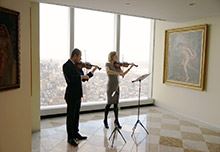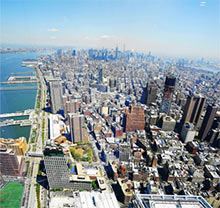 Of the 90 office floors scheduled to occupy One World Trade Center, Servcorp's new addition on the 85th floor is certainly to be one of the highest. The SkyLobby is located on the 64th floor, providing a great view of the city already, but Servcorp's floor is even higher and will surely give you a breathtaking view of Manhattan stretching into the distance.
Max Touhey, a photographer from popular real estate blog Curbed, was invited to use the Servcorp office for a day, and the photos he took were stunning. You can look at those photos and his impressions here. There you can see a collection of photos of the great views from the Servcorp reception area as well as the long hallways decorated with fine-art.
Although one may have the tendency to marvel only at the view 541 meters from the ground, the building also has a sustainable design, integrating renewable energy (interior daylighting, reused rainwater and recycled construction debris).
Even if you're stationed in Japan, Servcorp's clients can enjoy complimentary* use of all other Servcorp locations around the world, outside of their assigned Servcorp city.
*Serviced Office clients can use any overseas Servcorp offices for up to 5 days per month
*Virtual Office and Co-working space clients can use the lounge and co-working spaces at any location for up to 3 hours a day.
Therefore, when the number of Servcorp locations increase, the number of locations Servcorp clients can utilize expands as well. To encourage our clients to fully utilize our services, whenever we have new location opening, we deliver sweets to the clients as a way to communicate the news.
At the Servcorp Umeda Hilton Plaza West Office Tower, the staff delivered cookies, scones, cakes to the clients - all decorated with a bit of New York flare. When we informed them about the new opening at One World Trade Center, we received comments like "It's so cool that it's on the 85th floor!" and "Isn't the new building even taller than the old one?" from interested clients who were all excited at the prospect of being able to make use of the new location.
The staff at Servcorp Hibiya Central Building prepared cheesecake to show their New York appreciation while delivering the good news to Servcorp clients. Here, clients expressed similar sentiment saying they would like to visit. One client had said "wow, a new location on the 85th floor of One World Trade center is really something else".
All and all, we were glad that the clients were able to indulge their sweet-tooth and take a much needed break from their busy days.
Servcorp will continue expanding, and we hope that your business will continue to grow with us.
Hibiya Central Building
Level 14 Hibiya Central Building
1-2-9 Nishi Shimbashi, Minato-Ku
Tokyo 105-0003 Japan
T +81 3 5532 7300
Email: hibiya@servcorp.co.jp
Umeda Hilton Plaza West Office Tower
Level 19 Hilton Plaza West Office Tower
2-2-2 Umeda Kita-ku
Osaka 530-0001 Japan
T +81 6 6133 5700
Email: hiltonplazawest@servcorp.co.jp