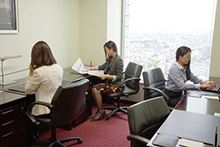 Servcorp, the World's Finest Serviced Offices, Virtual Offices and Coworking Space provider, has opened a 5 star women's-only shared office at Level 45 Ikebukuro Sunshine 60 in February, 2016.
Servcorp's women's-only shared office is the most high-tech and secure of its kind – it provides you safe and comfortable working environment, which is fully fitted out with our latest state-of-the-art technology and highest Wi-Fi standards.
Our shared office is open 24/7: you can enjoy this 5 star working environment anytime! Our bi-lingual staff will support you for ad-hoc needs, to make your experience at Servcorp even better.
Inclusions:
Anytime access to 5 star women's-only shared office 24 hours a day, 365 days a year
Prestigious CBD address usage for your business cards and websites (Ikebukuro Sunshine 60 level 40)
Access card key for Sunshine building and security key for women's only area
Free secure storage unit
Free high quality Coffee and Twining's tea
Free secure and fast Wi-Fi
Invitation to networking events*
Sunshine City citizenship card (you can enjoy special discounts at Sunshine City)
*The events are not women's-only
What we can offer:
This women's-only shared office is now open to satisfy the customers' demands – the safe and secure working environment for working women – we are always happy to support them! Although this shared office has just opened in February this year, we have already got many positive feedback from our customers and we are planning to extend the women's-only area.
With the reasonable price, you can enjoy our valuable services in this 5-star environment. Not just this 5-star environment, our services are also 5-star; that's what we offer. Facility services such as meeting rooms, various assists from our bi-lingual secretary such as clerical work and translation etc.*
Also you can use the access card key for Sunshine building and the security key for the women's only area which keep outsiders away. There are patrol officers in the building in the night time, so you don't have to worry about the security system – you can always work in a safe and secure place.
No worries either, if your guest or business partners are not women; we offer the common space as well, fully equipped with 5-star business lounge and meeting rooms. Sometimes it's hard to network when the entire building/floor is women's-only, since the industry type might be depending on specific types. But with Servcorp, it's totally fine – Our common space is available for everyone.
*The cost will be on a pay-as-you-go basis. Please have a look at the additional services section.
All of the above are accessible on a full-time basis (24 hours a day, 365 days a year!) with a monthly membership of only 60,000 yen/mth (tax exclusive).
Additional services available:
We offer 5-star services as you need, anytime you need. Our services are flexible and rich in variety, we are always happy to help you!
Phone option: with an additional 10,000 yen/month to your membership, a local phone number will be issued so you can use the number as your office number. The number will be answered by our highly trained dedicated receptionist and transferred to your desired device. The price also includes the Onefone App and OneAp – apps that allow you to take calls and make calls using your local business phone number on your smart phone. When visiting the coworking area, you can pick any seat, swipe your smart phone over the beacon and the desk phone will automatically register to the Member's business phone number. The Member has up to 10,000 yen/month of free outbound calls from this app.
Secretarial services: on a pay-as-you-go basis from as little as 10 minutes, you can ask our highly trained and bilingual secretaries to help with your tasks. Some examples of tasks include making appointments on your behalf, sales calls, translations, creating presentation slides, business trip arrangement, event preparation, etc.
Would you like to experience this 5-star working environment without worrying about security? Drop by and see Servcorp's women's shared office!
Special offer till the end of June 2016: 1st one month for free with a welcome gift for you! Feel free to visit or call us for details.
Level 45 Ikebukuro Sunshine 60
3-1-1 Higashi Ikebukuro Toshima-ku
Tokyo 170-6045 Japan
T +81 35979 2550
Email: sunshinecity@servcorp.co.jp