This time, Kumiko and Yuko from Servcorp Ariake went to visit the facility, in order to give you an exclusive report of Oakwood Apartments Ariake.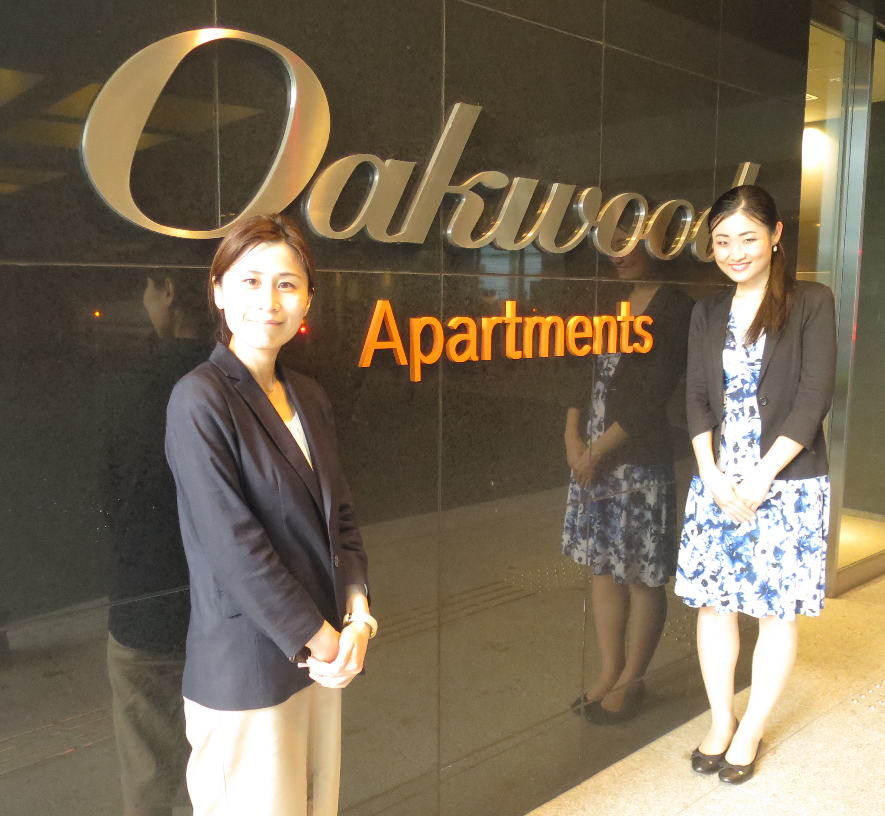 Oakwood Apartments Ariake is conveniently located a 3-minute walk from Kokusai-Tenjijo Station on the Rinkai Line and also only a 3-minute walk from Servcorp Ariake!! Oakwood Apartments Ariake attracts various groups of people; business people who are there for exhibitions, travelers, and people who want to relaxation away from the hustle and bustle of the city. Because of the easy-access from the airport, many of our clients from overseas prefer to stay at Oakwood Apartments Ariake during their business trips to Japan. This coastal sub center area of Tokyo is currently under the rapid development, and Oakwood Apartments Ariake is one of the facilities to accommodate the growing number of visitors. You will see, however, that Oakwood Apartments Ariake is so much more than just a hotel. Let's go see the inside!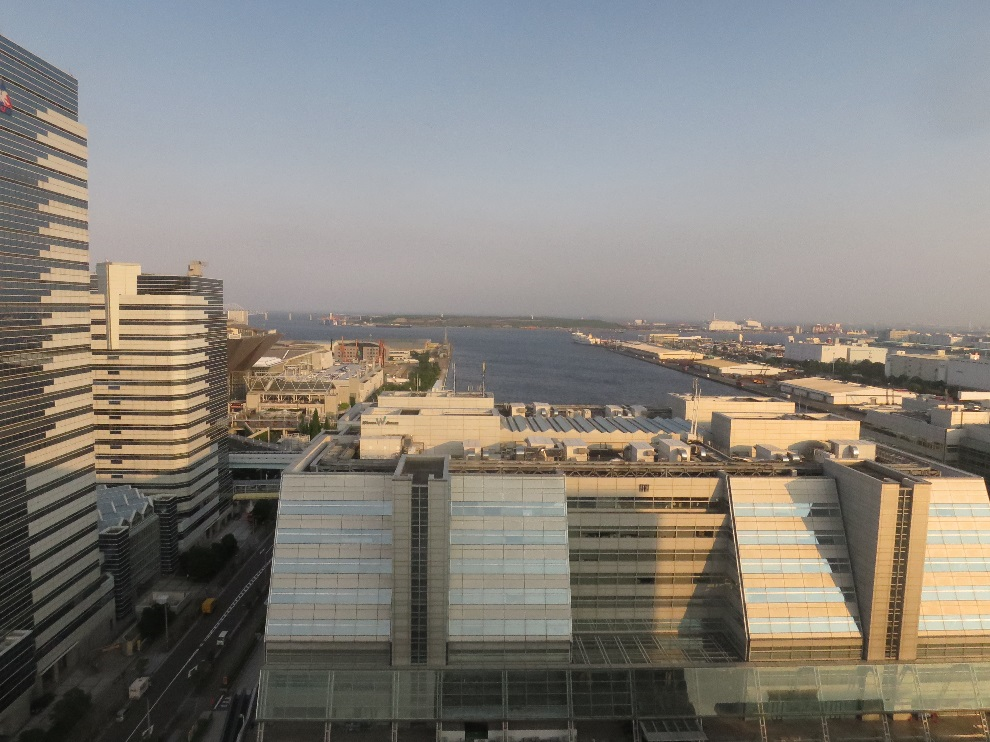 Ms. Takenaka led us to the One-Bedroom Standard Room. It is about 38 square meters, and it is extremely well-lit with natural sunlight! Look at this great view from the balcony! You can also see Ariake Frontier Building Tower B on the left.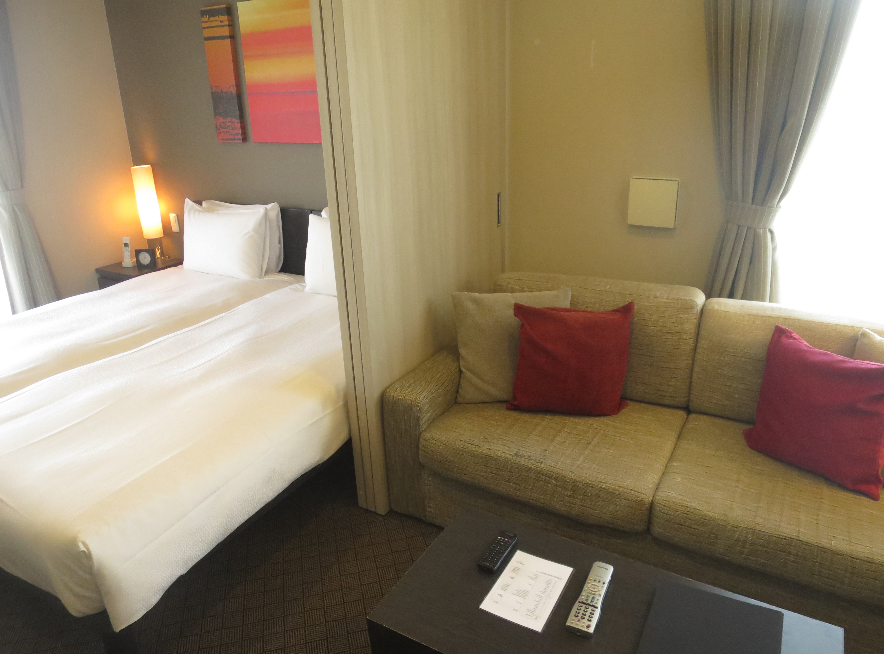 The bedroom and living room are next to each other, and they can be divided by the sliding door. Being able to separate the space is very convenient when you want to invite a guest over.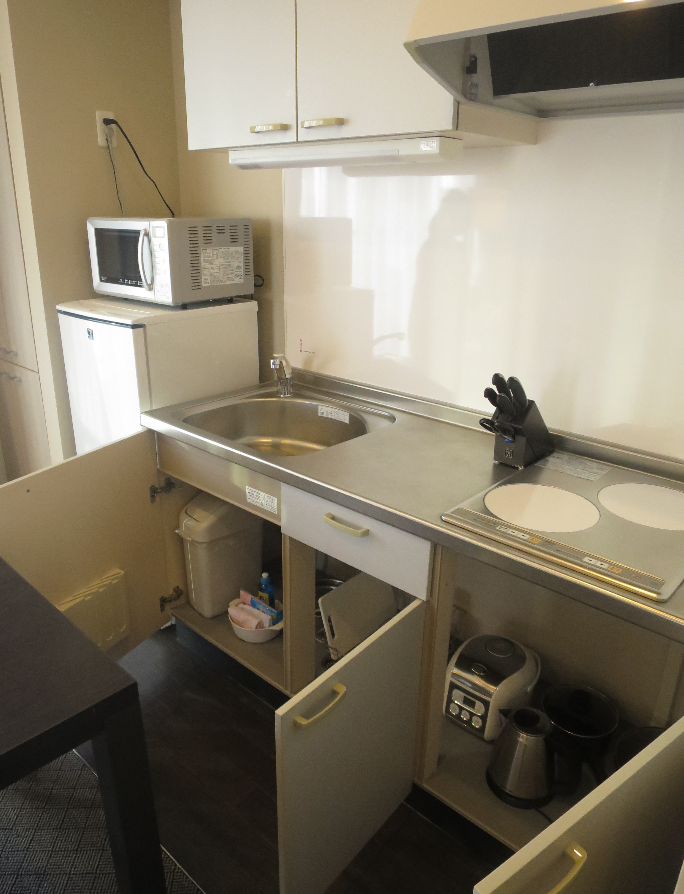 Unlike traditional hotels, each room at Oakwood Apartments Ariake has a kitchen area which is ready-to-use, fully furnished with home electrical appliances, cooking devices, and eating utensils.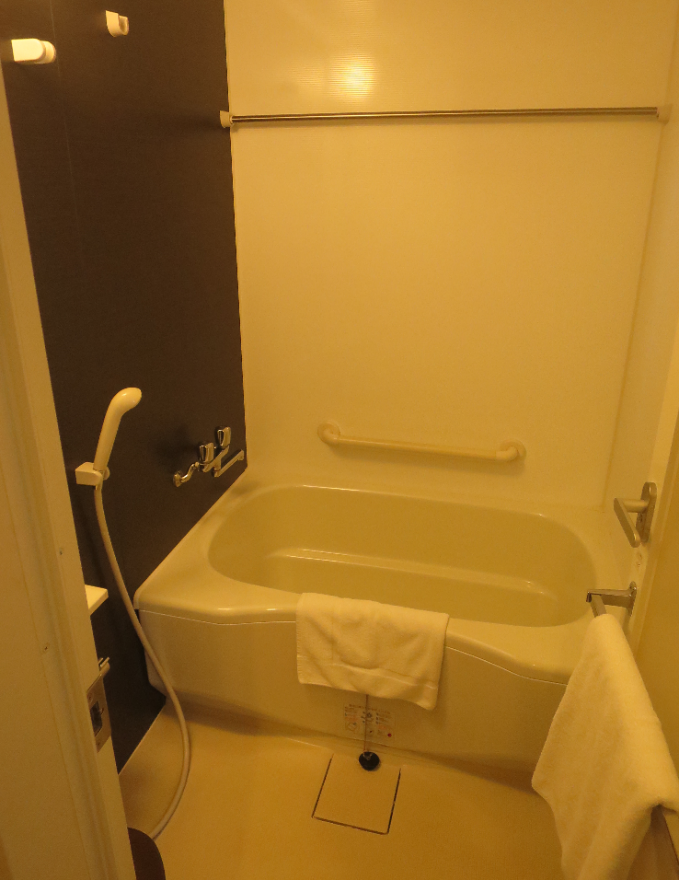 Bathrooms are equipped with quite a large bathtub. Every room has a washer-dryer which can help when you need to pack light.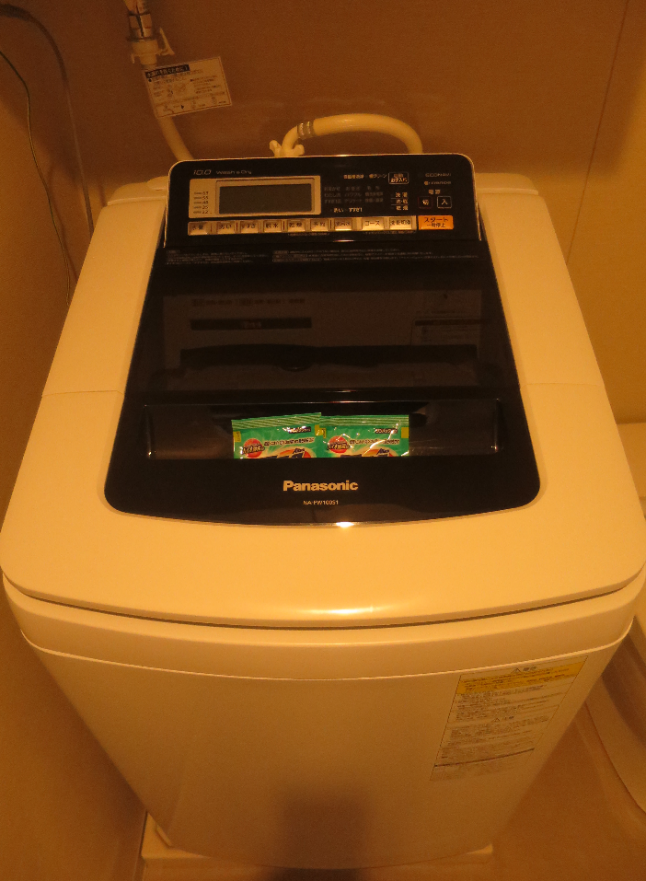 A fitness-center is located on the floor as a shared accommodation. It is equipped with high-spec machines and various weights. You can stay fit and active throughout your stay!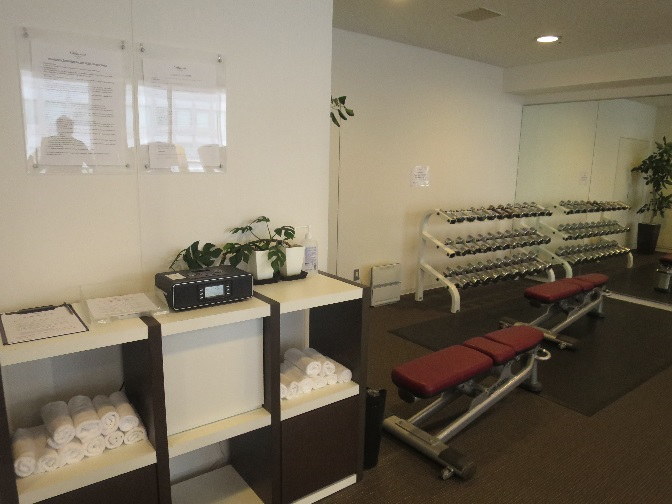 At the reception area, various newspapers, magazines, and books are available.
This area is cozy and lightly scented with the aroma of fresh flowers.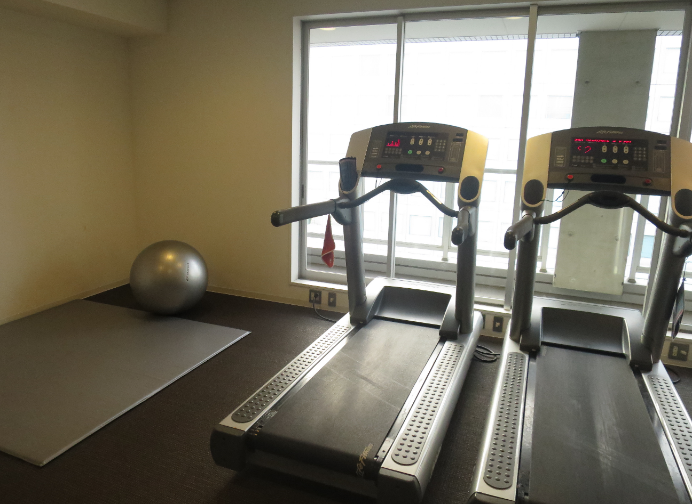 Since all reception staff are bilingual, it is a stress-free environment, regardless of where you travel. Ms. Takenaka who has given us a tour told us "One of the fortes of Oakwood Apartments Ariake is the peaceful and warm environment we provide. We can give the most suitable offer from all of our 9 locations in order to best accommodate your needs and lifestyle."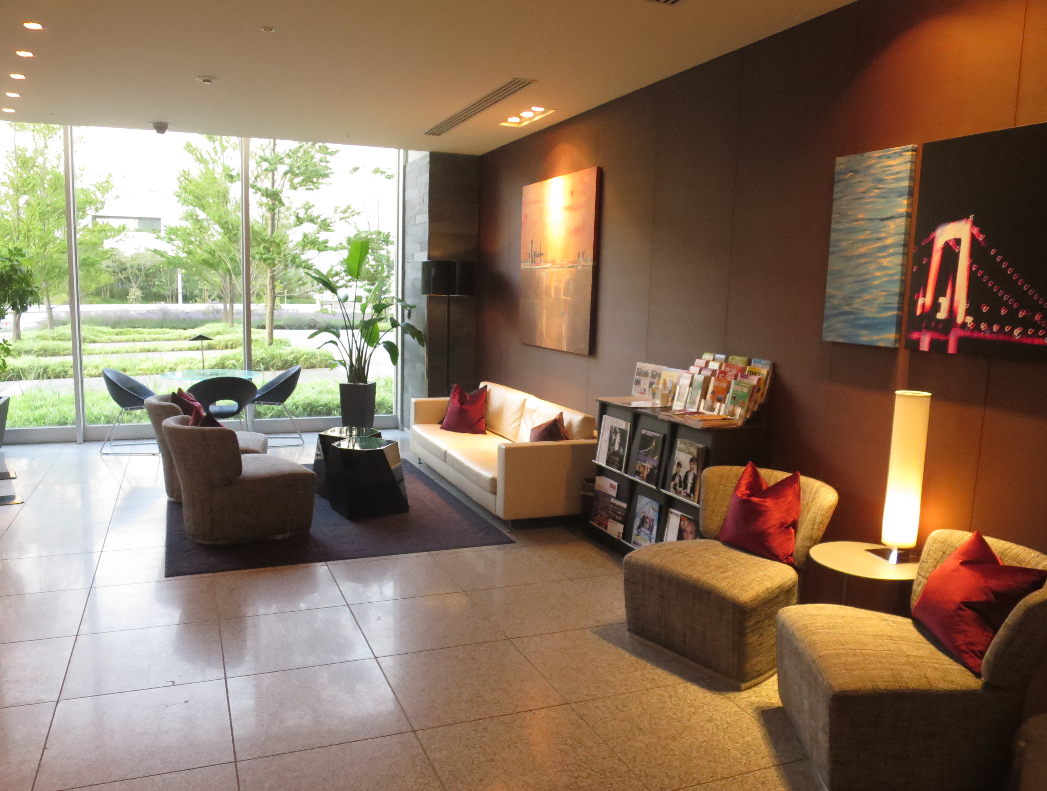 We asked what are some of the things they pay close attention to, in order to provide the best "Service Apartment" environment rather than just a hotel.
"We aim to provide the best customer service to make our guest feel at home. That is a totally different feel from being at the hotel where people are constantly coming and going. We also plan monthly parties and various networking events for our guests. We would like our guests to enjoy each other's company and make wonderful memories here."
Just as we at Servcorp provide "Serviced Offices" and not just office space, Oakwood Apartments Ariake staff provide great customer service by going out of their way to make sure their guests' needs are met at the highest standard.
Before we left, we asked if there was something they could do for Servcorp's clients. We received such a generous offer! Ms. Takenaka said "We would be happy to apply 14:00 late checkout privileges to all those that do their booking through Servcorp!" (Please note that it is subject to availability) Wow, what a generous offer!!
If you would like to book at Oakwood Apartments Ariake, please do not hesitate to contact a Servcorp secretary.
Oakwood Apartments Ariake is a perfect business solution for everyone, who are here for the exhibitions and also for the Olympics 2020 related business for the next years to come.
We hope you could come and experience their first-class service!
Our special thanks to Ms. Takenaka and the staff at Oakwood Apartments Ariake who made us feel at home with their heartwarming welcome.
Oakwood Apartments Ariake
Address:
3-6-6 Ariake, Koto-ku, Tokyo
TEL 03-3527-5821
FAX 03-3527-5824
Home Page http://www.oakwood.com/

Ariake Frontier Building Tower B
Level 9 Ariake Frontier Building Tower B
3-7-26 Ariake Koto-ku
Tokyo 135-0063 Japan
+81 3 5530 9100
ariake@servcorp.co.jp