One of the most famous and well-known commercial facilities, Sunshine City, holds fantastic events each season. Today, we would like to introduce the "Tropical Beer Garden" at the Sunshine Aquarium.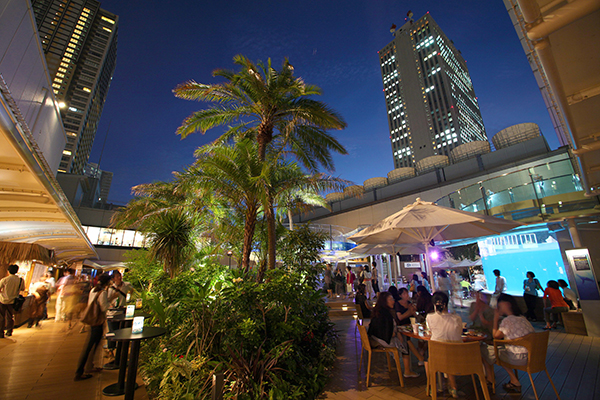 Sunshine Aquarium Tropical Beer Garden Last Year's Event (http://www.sunshinecity.co.jp)
The Sunshine Aquarium is located on the rooftop of the World Import Mart of Sunshine City. It was opened in October 1978, and also previously known as the Sunshine International Aquarium. The Sunshine Aquarium is now very popular among both children and adults after renewing the entire facility on August 4th, 2011. There are variety of events taking place in the aquarium as "Oasis in the sky".
The "Tropical Beer Garden" is limited-time event which is open only until August 31, 2016. They provide beer and snacks that are perfect for this hot summer. There will also be entertaining performances such as the "Flame Pirate Circus", "Mermaid Circus" and more.
In the giant donut-shaped glass tank "Sunshine Aqua Ring", usually reserved for sea lions, will have penguins swimming in it between 18:30 and 19:30. You will be able to watch them from underneath the tank so it looks like the penguins are flying! A rarity to be sure.

Sunshine Aquarium Sunshine Aqua Ring (http://www.sunshinecity.co.jp)
The Sunshine Aquarium and the Tropical Beer Garden are very popular so the staff and clients of the Servcorp Ikebukuro Sunshine 60 branch drop by after work sometimes. A number of famous firms in Japan have their head offices in Sunshine 60, so you may be able to network with those tenants at Tropical Beer Garden!
If you visit Ikebukuro for a meeting or as business trip, why don't you have a fun and relaxing evening at the Tropical Beer Garden in the Sunshine Aquarium?
Open Hours: 17:00 – 21:00 (Ends on August 31, 2016).
Entrance Fee: Adult 2,000 yen, Child (till Junior High School Student) 1,000 yen, Senior (Over 65 y.o.) 1,700 yen.
Helpful links:
Ikebukuro Keizai Shinbun: http://ikebukuro.keizai.biz/headline/1554/
Sunshine Aquarium: http://www.sunshinecity.co.jp/aquarium/index.html

Ikebukuro Sunshine 60
Level 45 Sunshine 60
3-1-1 Higashi Ikebukuro Toshima-ku
Tokyo 170-6045 Japan
+81 3 5979 2100