Vogue magazine will hold their annual event "Fashion's Night Out" in Tokyo. The event will be held around Omotesando/Aoyama/Harajuku area. It will kick off with an opening ceremony at 4pm and end at 11pm at Omotesando Hills, which is about a 5 minute walk from Servcorp Aoyama Palacio Tower building!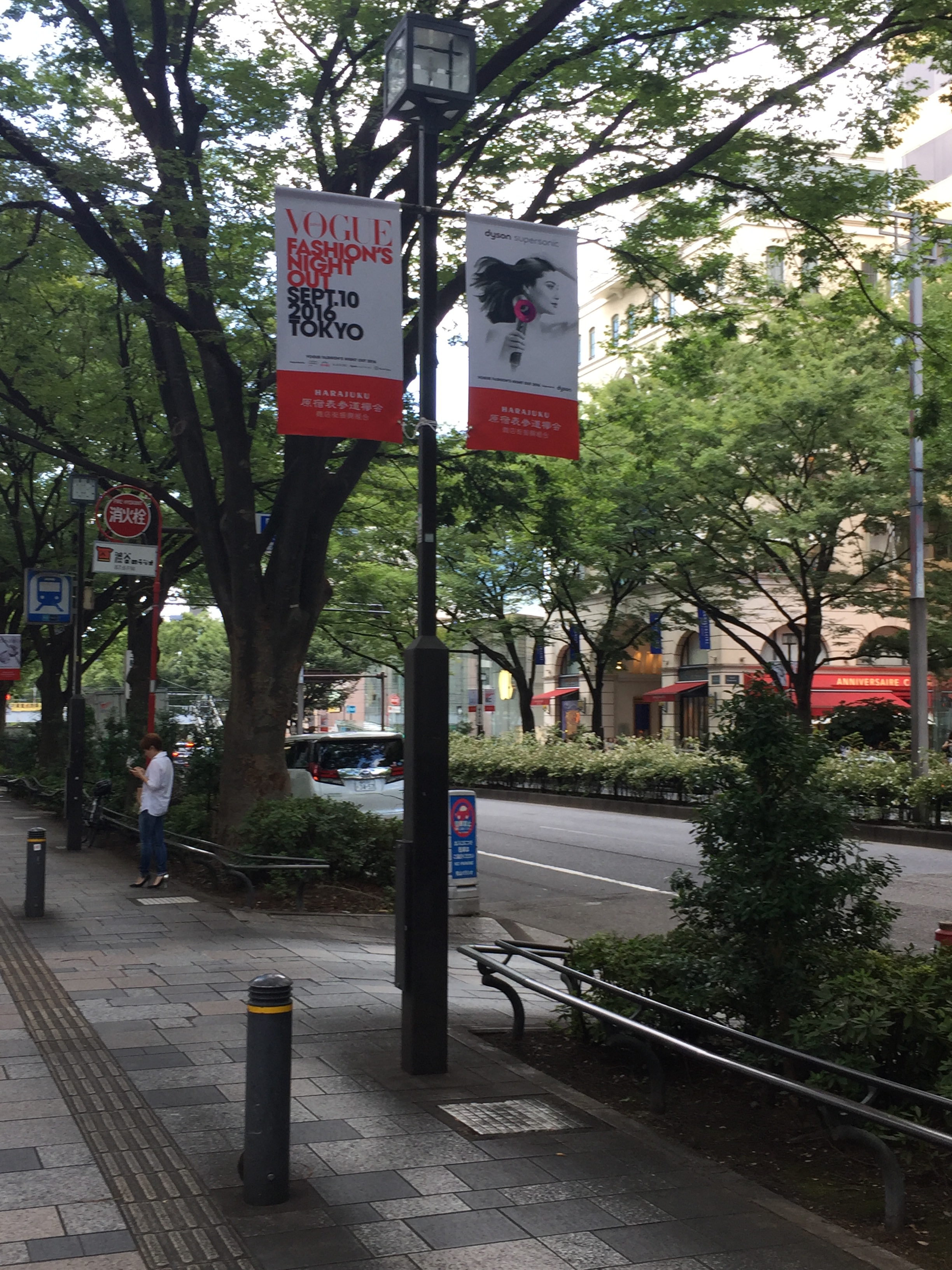 Entrance is free. The entrance may be blocked out if it gets too crowded – which it will and there will be an array of beautiful fashionable people talking, walking and singing along the Omotesando/Aoyama/Harajuku area. You can find lots of flagship, posters around Aoyama/Omotesando area for info of this event.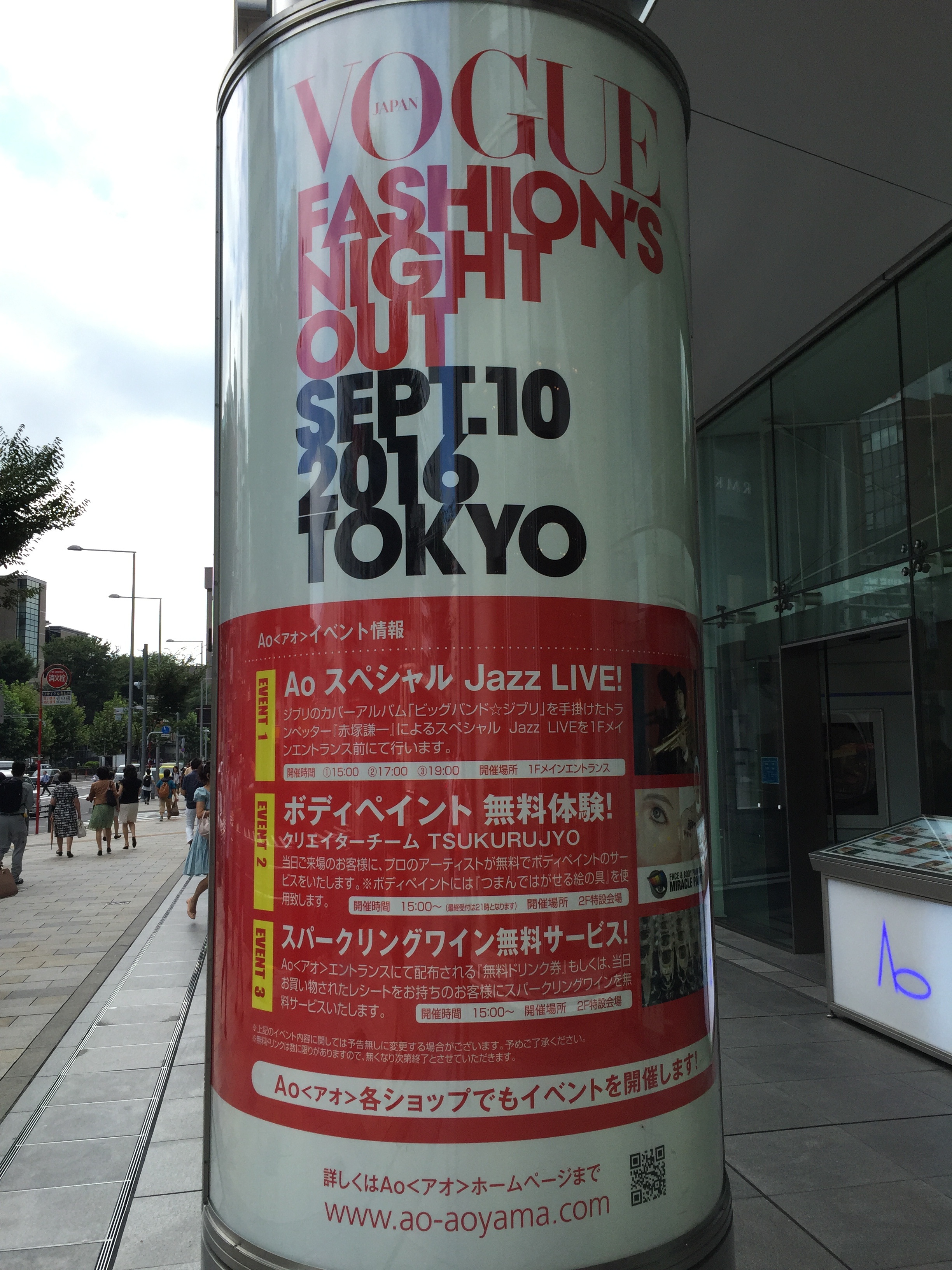 Prizes such as Evian water, samples of KANEBO cosmetics, FNO Original Photo Card stripe, shopping voucher value at 100,000 JPY, 3 months free of music on Apple store, a Dyson hairdryer and much more. The closest station is Omotesando Station on the Ginza, Chiyoda, and Hanzomon lines. POST on SNS with #fnojp, register at the VOGUE website and Win special gift items!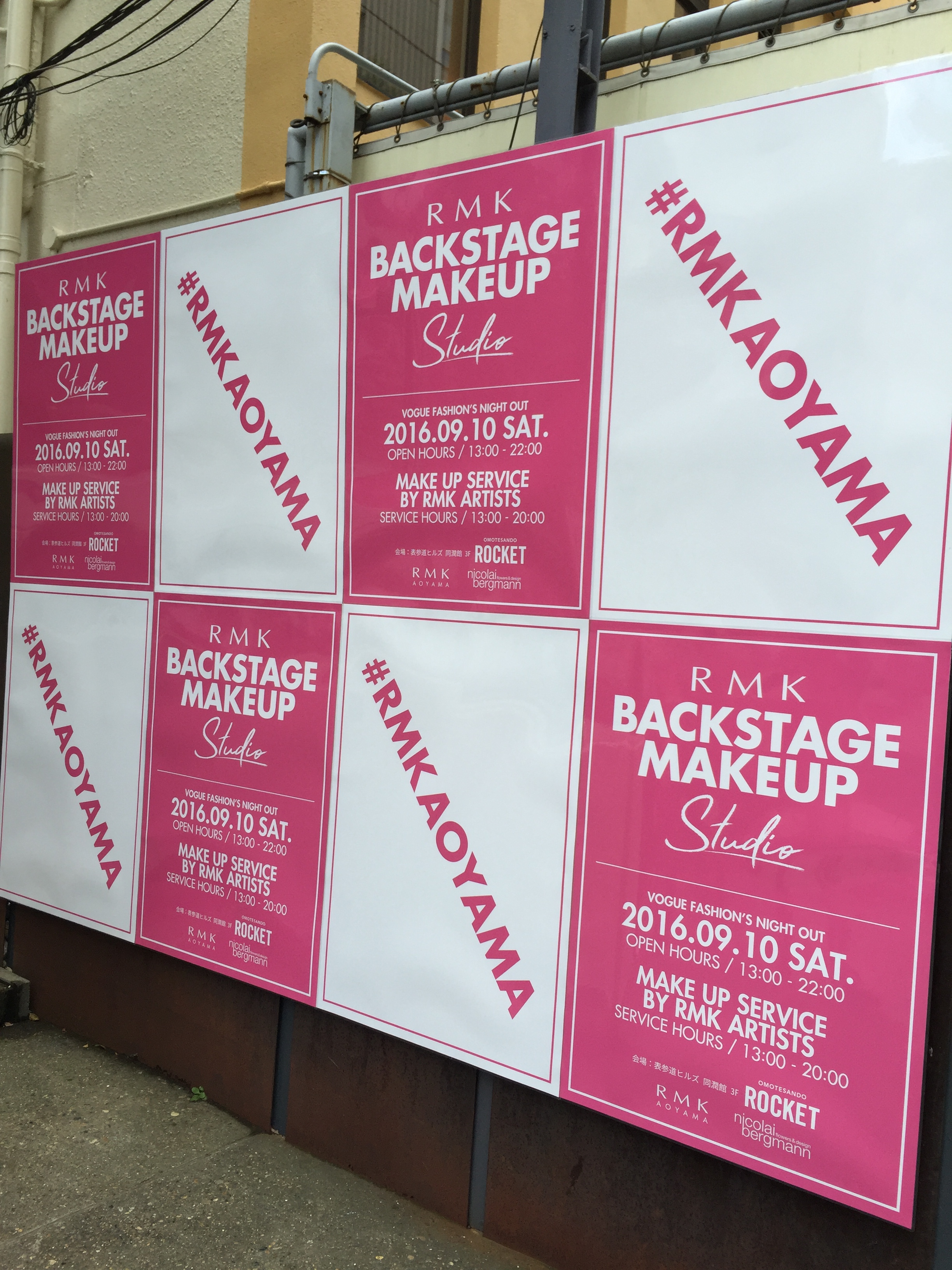 Info of this year's event:
http://www.vogue.co.jp/fno/
http://www.vogue.co.jp/fno/tokyo/
http://www.vogue.co.jp/fno/2016/tokyo/en.php
http://voguegirl.jp/fashion/20160520/fno2016/
http://www.rmkrmk.com/news/event/1608/11122.html
Check out prizes you can get:
https://twitter.com/search?q=FNOJP
http://www.vogue.co.jp/fno/2016/tokyo/present/
Participating shops: http://www.vogue.co.jp/fno/2016/tokyo/shop/
Last year's event: http://www.vogue.co.jp/fno/2015/
RMK cosmetic is also the sponsor for backstage make up studio. There will be a free make up service from 13:00 - 20:00 on that day. It is located on the 1F of the Ao Building on Aoyama Street.
This event is not only about enjoying shopping along Aoyama/Omotesando/Harajuku area but it is also related to supporting charity. Making a contribution to society is the one of objectives of FNO, and they are giving away original tin badgers to shoppers who make a donation at the VOGUE Charity Booth. A portion of the contribution will go to Children without Borders Japan, an NPO that is supporting the revitalization of the Tohoku and Kumamoto earthquake disaster zones
This year event starts from Tokyo and next is, Osaka on 19th and 20th November 2016 at Hankyu Umeda Headquarters, Hankyu Mens Osaka.
A guide to FNO Tokyo will be as follows:
1. Dress up and go for shopping night and get some special sale price
2. Limited edition items will be introduced so don't miss it out!
3. There will be a welcome drink and sweets available at the shops
4. There will be a photo booth shootings and if you do a hashtags and broadcast/share it at SNS you might win a prize!
5. DJ party to support charity event too
6. Live performance and celebrities as guest. If you are lucky, you might bump into some celebrities in your favorites stores
Aoyama Palacio Tower
Level 11 Aoyama Palacio Tower
3-6-7 Kita-Aoyama Minato-Ku
Tokyo 107-0061 Japan
+81 3 5778 7600