Virtual Offices in Marunouchi / Yaesu / Otemachi
---
About Virtual Offices in Marunouchi / Yaesu / Otemachi
Home to many major companies in industries such as finance, trading and media, the Marunouchi and Otemachi area is undoubtably Japan's leading business district. Due to its status, location and brand power, rent in this area has maintained the highest levels in the country, despite the massive increase in supply of offices in recent years. Marunouchi's Nakadori is marked by high-brand stores making it attractive as a commercial area and one of the most popular places to work in Japan.

Tokyo Station, located in the center of the area, is known as a gateway to Japan and boasts excellent access to locations across Japan. Servcorp has 4 locations in the Marunouchi / Otemachi area: Marunouchi Nijubashi Building, Yusen Building, Marunouchi Trust Tower - Main, and Otemachi Tokyo Sankei Building.
Virtual Office Locations Nearby
Benefits of a Virtual Office
A Servcorp Virtual Office gives you more than just a powerful address and a local phone number, it gives you "everything but the office". Your calls are answered by a dedicated receptionist in your company name and are put through to your mobile or home. Servcorp also offers mail forwarding and a variety of secretarial services. Access our global network of Coworking Spaces, private offices and Meeting Rooms when and where you choose. With Servcorp's Virtual Offices you can run your business from anywhere.

Powerful CBD Address

Mail Forwarding

Local Phone Number

Phone Handling

Dedicated Receptionist

Secretarial Support
In-house IT Support

Meeting Rooms
About the Marunouchi Area
Located between the Imperial Palace and Tokyo Station, a mega transport hub, Marunouchi is one of Japan's most prestigious business districts. Together with neighboring Otemachi, Marunouchi is home to the headquarters of Japan's most powerful companies. The Mitsubishi Group companies, large international technology companies and all the major Japanese banks and foreign banks are headquartered in this financial hub of Tokyo. Convenient access to transportation is second-to-none with Tokyo Station being the main gateway to all areas of Japan. Shinkansen lines are accessible from this station, as well as the Narita Express, which allows smooth transportation to the airport.
Over the past few decades Marunouchi has been receiving a major facelift and new construction continues with Tokyo Tokiwabashi 2027 set to become a mammoth 300-meter office tower.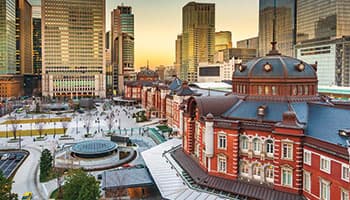 Tokyo Station
Tokyo Station is a major transportation hub in Tokyo, with over 3,000 trains passing its rails each day. The station also includes a luxury hotel; the Tokyo Station Hotel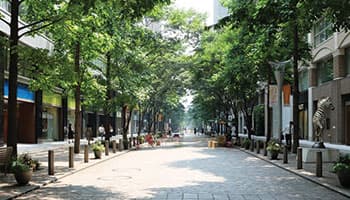 Marunouchi Naka-Dori Street
Naka-Dori is known as one of the leading shopping streets in Japan. At lunchtime the street closes to traffic and turns into a fashionable street with plenty of terraces to have a coffee or an outside meal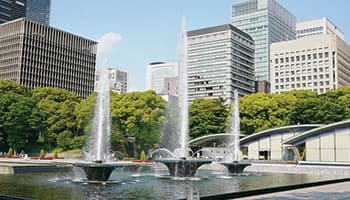 Wadakura Fountain Park
A contemporary park right across the street from the entrance to the Imperial Garden with spectacular Fountains.
Other Office Types in Marunouchi / Yaesu / Otemachi